For every family, the holidays present an opportunity to embrace tradition, both new and old. Here at Backyard-Hockey.com, we have our own tradition, that being the post you're about to read. We penned this piece two years ago, and run it each year around the same time. As you finish your work week and sit back to relax with family and friends (or hustle around town filling rinks before it gets cold), don't forget to stop and take stock of the awesomeness of the sport we all love and the outdoor component that brings so much magic to our lives.
Best wishes for a great holiday season and happy new year!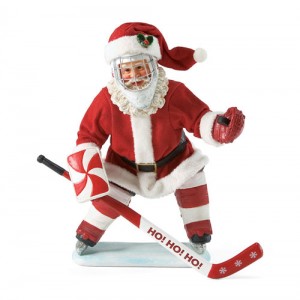 'Twas The Skate Before Christmas
'Twas the night before Christmas, and all through the yard;
Not a creature was skating, the ice wasn't hard.
A warm front had come shortly after dad filled;
And temps north of freezing left the water unchilled.
Our skates they sat dormant, our sticks in a pile;
Our jerseys on hangers, unused for a while.
So we shuffled to bed, quite excited for Christmas;
But a bit disappointed rink season had missed us.
As I lay in my bed, I turned and I tossed;
Our rink was a puddle, the winter was lost.
I'd pleaded with them, the rink gods hadn't listened;
I drifted to sleep as the rink water glistened.
Then sometime that night I awoke to a SOUND;
I shot up in bed, rubbed my eyes, looked around.
It sounded like skate strides, one after another;
I turned to the window and threw off the covers.
My breath fogged the glass and I struggled to see;
Was there ice in our backyard? Could it really be?
I saw skate marks and pucks and the net had been moved;
There WAS ice out there, it looked perfectly smooth.
I tiptoed to the hall and woke sister and brother;
We crept down the stairs not to wake dad and mother.
Slung our skates over sticks so that we'd be prepared;
We opened the back door, we stopped, and we stared.
There was a lone figure on our backyard ice;
His stickhandling was perfect, his wrist shots precise.
On his head was a white ball, atop a red hat;
A white beard draped over a red coat so fat.
He was flanked 'round the rink, by a small crowd of nine;
With four on each side, and one behind the twine.
He saw us and motioned for us to come play;
We ran through the backyard, with zero delay.
We laced up our skates, just as fast as we could;
Grabbing gloves and our sticks, the three of us stood.
He motioned for us to put sticks in a pile;
As my sister chose teams, the man turned with a smile.
"I've read all your wish lists, I've looked at them twice;
You're the first child to ever ask Santa for ice.
But I know how important this rink is to you;
And your father, he asked me for cold weather too."
So we picked up our sticks, me and Claus on a team;
The rink lights stayed off, the ice shone in moonbeam.
And we skated and passed and we laughed and we scored;
Rudolph's nose glowed bright red, another goal on the board.
For what seemed like hours, we played on our rink;
Though we weren't cold or tired, our cheeks rosy pink.
We played shinny with Santa, you wouldn't believe;
What had transpired that unseasonably warm Christmas Eve.
After dozens of goals had been scored in the net;
And the ice was chewed up and our shirts soaking wet.
We glided to the boards, sat in piles of snow;
And Santa said "Children, it's time I must go."
So we took off our skates and replaced them with boots;
The big man stood up, wiping snow off his suit.
We said our goodbyes, waving to the reindeer;
And Santa said, "Hey kids – same time next year?"
Back up to our bedrooms, the three of us shuffled;
Tiptoed up the stairs, our laughter we muffled.
We went to the window, but Santa was gone;
And all that was left was an unfrozen pond.
~
Christmas morning began the same way as most others;
Toys and games were from Santa, underwear was from mother.
Dad glanced in the backyard, and cursed the warm weather;
I said "Thanks for the rink, you're the best father EVER."
My sis pulled the last gift from under the tree;
Three names on the tag: brother, sister, and me.
Inside was a puck, and inscribed left to right:
"HAPPY SKATING TO ALL, AND TO ALL A GOOD NIGHT!"