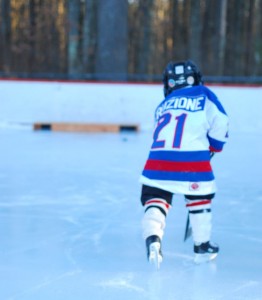 A few weeks ago, I posted a link on our Facebook page to a John Buccigross article that helps new (and existing) hockey parents understand what to do, and what not to do, so that everyone enjoys the youth hockey experience. Essentially, it gave some simple reminders to avoid becoming "that parent".
Shortly thereafter, I sent a note to co-writer Kevin and suggested we start a list of backyard rinkbuilder commandments. We went back and forth, and the collaboration is what you see below.
But we want to know what you have to say. So as much as this is a blog post, it is also a sounding board. Add your backyard rink rule to the comments section below. Consider it your contribution to all the new, first-time rinkbuilders who will visit this site in the future. After you've added your bit of knowledge, share this list and hopefully we can provide a framework to help rinkbuilding rookies avoid becoming "that parent" with regards to their outdoor slabs.
So without further ado…
THE BACKYARD-HOCKEY.COM RINKBUILDER COMMANDMENTS
1 – The Friday after Thanksgiving is International Build Your Rink Frame Day. Enjoy it. Everyone is home, so make it a family event. The kids will enjoy the rink even more if you let them hold your cordless drill for a few minutes on a Friday in November. Once they get older, make them lug the plywood.
2 – "My yard is pretty flat" is first-time rinkbuilder code for "I'm totally screwed once the water tanker is here, I just don't know it yet". Take the time to properly determine the slope of your yard before your first season begins. You can get pretty creative when trying to think of ways to explain to your kids why half the rink is two feet deep while the other half still has the liner flapping in the wind, but it's best to avoid that situation altogether.
3 – If your hose has been running for more than 13 hours and you still don't have your entire liner covered, look for holes. If you find one, swearing is not only acceptable, it's encouraged.
4 – You change your oil every 3,000 miles, you replace your shoes once they're worn, you change the bathwater between bubble baths, so get a new liner every year. If you're worried about being green, find a creative way to reuse it. For every story of someone reusing a liner with success, there are three other sets of kids who had to skip a year on the backyard because dad tried to save $150. Times are tough, I know – so budget throughout the year and set aside $3/week. Even better? Teach the kids some fiscal responsibility by having them collect cans for recycling or running a lemonade stand to pay for part of it.
5 – If you build a backyard rink, you MUST clear it once it snows. This is not an option. If you build a rink and let junior skate around for two weeks, then ignore it once the first January snow storm hits, you are a horrible, lazy parent. This is a fact.
6 – Fire pits extend not just the length of the skating sessions, but also the size of your audience. Grandma loves little Johnny, but she's not standing outside watching him skate for two hours without some heat. And some whiskey. Providing both is your responsibility.
7 – There is no such thing as checking during a backyard rink game. Except when a kid runs into an adult. In that case, do your best Eric Lindros impression and watch as your four-year-old Scott Stevens belly laughs so hard he falls down.
8 – Your wife will let you do whatever you want with the rink as long as you convince her that it's for the kids. Even if it only kinda is, and even if you end up acting like one of them once you're out there.
9 – On cold days, dress the little ones in layers. Buy a thin headsock (like this one, which my son has worn for years) from a hiking store and make their helmet a bit larger so it fits. The fun you have on the rink is directly proportionate to the number of times the kids answer "NO!" when mom yells "Are you cold?" from the kitchen window.
10 – You can't make a little kid enjoy a backyard rink the first time out. But you can have them hold your stick as you drag them around, calling them "the human Zamboni" and help the process along.
11 – If your neighbors complain about the "noise" coming from your rink (kids laughing, pucks hitting posts), then it's time to get new neighbors. Better yet, invite them over for a skating party and let them see what the fuss is all about. All of that said, be courteous after dark. A puck hitting boards is approximately fifteen times louder after 8pm.
12 – The world may disagree, but it is NOT insane to lay down a layer of ice with a garden hose at 11pm in the middle of January. In fact, it's the best time of the day. Many of the world's ills have been cured by a man with a hose and an hour to himself under the stars.
13 – The most economical beer cooler in the world is a snow bank. Use it liberally and feel the rush of green living with every sip.
14 – Before mowing your lawn for the first time each spring, you must meticulously search your lawn for lost pucks. You're bound to find at least a dozen. If your children are 10 years old or older, double it.
15 – Skating by yourself at night is one of the most therapeutic activities one can partake in. Millions of people pay $80/hour to sit on a leather couch and talk about their problems. Most could benefit from an hour with a pair of worn-out Bauers and a Sher-Wood.
—
So that's our list…tell us what we missed in the comments and help your fellow rinkbuilders out!