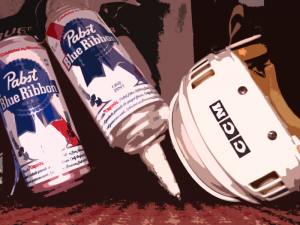 My buddy Ben from PondRocket sent me an e-mail early last week. The e-mail had an excitable tone, which can be expected given the content. He had just completed the paperwork to sponsor the Pabst Blue Ribbon Colorado Pond Hockey Tournament, with naming rights to one of the rinks and the ability to sell his apparel on-site. Taking place February 19th and 20th in Summit County, CO, the PBR tourney will be PondRocket's first event sponsorship — a very cool, very exciting step for any company.
But beyond the wonderful business partnership he was embarking on, Ben was stoked about something else: as part of the sponsorship deal, PondRocket was putting a team into the tournament. Now Ben is no rookie when it comes to playing hockey, growing up with the game in his home state of Ohio. But after his competitive playing days came to a close, he spent several years working for various teams in the NHL, AHL, and ECHL, eventually settling with his family in Arizona, where he currently lives. It may be hard to believe, but pond hockey isn't real big in Arizona. Hence, last week's e-mail.
His e-mail concluded with an honest question:
"What would a guy (living in AZ) need to add to his list to make the playing experience complete…and not freeze to death?"
I started to respond, then stopped. Despite living and breathing outdoor hockey, I've only played in one tournament. That number will triple in the next month, but as I type this, I am far from an expert in frozen surface survival. So with Ben's permission, I posed this question to every pond hockey player I could find, with a huge assist going to the folks at the US Pond Hockey Championships (and their social network).
So what kind of responses do you get when you ask the pond hockey community for advice for a first-time pond hockey player?
"Labatt Blue and Under Armor." –Matt P (Bedford, NH)
"This may be super obvious to everyone, but I learned the hard way. Make sure it's cans, not bottles, in the hockey bag. I dont mind a beer-soaked hockey bag but its a pain cleaning up the glass." -Ron L (Toledo, OH)
"HAVE FUN, dress warm, and remember it is for charity, not the Stanley Cup." -Scott P (Merrimack, NH)
"Some items I'm taking into consideration: dress in layers, use wooden sticks (the cold might make composites brittle), and wear/bring a second pair of skates. And don't pass up a beer if offered, at any time of day. -Alex R (Northbridge, MA)
"Elbow pads." -Chad S (Conway, AR)
"Dry clothes. The rink rat division plays all the games in one day its nice to have something dry when its all said and done." -Noland G (Cedar Rapids, IA)
"Have fun! If you aren't having fun then you're missing the point." –Chad S (Madison, WI)
"Work out the liver n' lungs at from X-mas on!" -Piers L (ID)
"Bring a raincoat just in case." -Mike T (Minneapolis, MN)
"Lots of undershirts! It sucks sitting around in wet cold shirt!" -Geoff T (Minneapolis, MN)
"Sharpen your skates and bring warm gloves." -Karen K
"Long undies and hand warmers! And cash for the beer garden!" -Jay W (Minneapolis, MN)
"Aim low." –Mike D (Baudette, MN)
"Shoot the puck, early and often." –Steve G (Minneapolis, MN)
"Play nice. Nobody likes the team that plays too hard, lifts the puck, and slashes wrists and knees. And trust me, you'll see these people in the bar later." -Scott M (New Haven, CT)
"Dress warm, but don't overdo it. Unless you're really slow, you'll build up body heat as soon as you start skating." -Beth K (Minneapolis, MN)
"Don't forget to play defense. You'll be scratching your head wondering why your down 6 goals within the first 5 minutes of play." –Ron S (Lyons, CO)
"Buy past winners a beer." -Curt W (Minneapolis, MN)
"Shoot low." –Luke M (Minneapolis, MN)
"As a spectator, noticing players and fans need layers, lots of layers and an extra pair of socks. Staying dry is key." –Sarah
"Have a system to your play, mind the cracks and pack loads of layers." –Sonja N (Minneapolis, MN)
"Layers of serious cold weather clothing!" -Theresa K (Minnetonka, MN)
"Pace yourself… both on the ice and in the beer tent. You'll have something left when others are out of gas." –Carson K (Minneapolis, MN)
"Have fun , it's not the Stanley Cup & we aren't getting paid to play it." -Mike V (IL)
"Have fun!" –Courtney B (Minneapolis, MN)
"Don't forget to sharpen your skates when you get home. Ponds destroy your edges, and you'll be useless if you try to skate indoors after a pond hockey tournament." -Brian J (Burlington, VT)
"If you go to bed early to rest up and miss the drinking and late-night hijinx, you're missing the point." -Glenn P (Rochester, NY)
"If there are shovels available, use them." Joe D (Golden, CO)
"Buy your team captain a beer. He'll invite you again next year." Jim N (St Paul, MN)
"If someone on the other team is clearly goaltending, remind him of the rules by wristing one off his ankles." -Lenny B (Philadelphia, PA)
"Don't bother with expensive warm weather clothing. Wal-Mart has long underwear for $3." -Carol B (Geneseo, NY)
"Don't even think about stickhandling." –Brian T (Hartford, CT)
"Make your friends and family come watch your games, and tell them to get loud whenever your team scores." –Jeff K (Woburn, MA)
"Have fun. It's not about winning or losing. Unless you win." –Joe P (Bedford, NH)
So there you have it. 34 gems of advice for a first-time pond hockey player. Want to add to the list? Do so in the comments below.
And good luck, Ben.
Some huge 'thank you's' go out to Ben at PondRocket, everyone who contributed a tip, and the folks at the US Pond Hockey Championships, who assisted greatly in the gathering and aggregation of the responses.