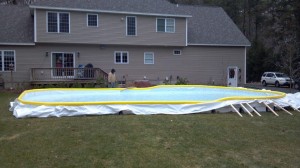 Floating hoverboards, colonization of Mars, robots that do your homework — many of the technological advancements that we were promised over the last few decades have yet to be developed. But here at backyard-hockey.com, we're rolling out amazing new technology right on schedule. OK, so we're upgrading from the 1995 excel-based technology we used in our old rink calculator post to the 2005 technology we're using below. But hey, an improvement is an improvement, right?
What you'll find below are two calculators that will help you determine your minimum liner size, gauge water volume needs as you fill and maintain your rink, as well as one that will also help you time your initial fill. All four are very important, particularly as you feel your way through your first season.
It should be noted that all calculations are estimates only, as it's impossible to account for slight variations in your terrain, slope, water flow rate, or the output of your resurfacer.
Have a suggestion for a new calculator, or comments on the ones below? Give us a shout.
What size liner should I get?

Note: This calculator takes into your account your rink width, rink length, and board height and tells you the minimum liner size you should purchase. If your board height varies, enter in your tallest measurement. It's never a bad thing to have too much liner, but it can be season-ending if you go to fill and you don't have enough. The calc below is the minimum size you should order.
Initial Fill Volume Calculation

Note: Very rarely will you have a flat slope beneath your rink. So to ballpark your initial fill volume, you'll need to use the average depth of your proposed slab and enter it in the "Thickness Desired" field. (For example, if you have a deep end of 12″ and a shallow end of 4″, and the slope is gradual, use a "Thickness Desired" of 8″.)
Resurfacing Volume Calculation

Note: This is a rough estimate of how many gallons of water you'll need to resurface your rink. A water layer thickness of 1/8″ (or 0.125″) is common when using a homeboni.
How long will it take to fill my rink?

Note: If you want to use this calc, you'll need to know how fast your hose pumps out water, which is measured in gallons-per-minute (or GPM). To determine this, grab a 5-gallon bucket, your hose, and a stopwatch, and time how many seconds it takes to fill the bucket. Divide 300 by the number of seconds it took, which will give you your hose's flow rate. (For example, if it took you 45 seconds to fill the 5-gallon bucket, your calculation would be: 300/45 = 6.67 gallons-per-minute.) You can then enter your GPM calculation into the calculation below.
Hope you found these calcs useful. Looking for more advice? Check us out on the Backyard-Hockey.com Forums!