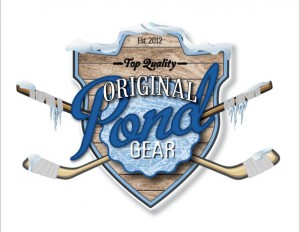 Attention all naked pond hockey players: get ready to cover up.
Launching tonight at midnight eastern, our buddy Rob Carleton and his boys at Original Pond Gear are letting loose with their first line of pond hockey-inspired clothing.
"On the pond is where hockey was born," says Carleton, an Ontario native who played both college and junior hockey. "It is such a huge North American pastime, and we wanted to produce some sick pond hockey apparel for fellow pond hockey players."
For their initial offering, OPG will carry six t-shirt designs, three hoodies, three hats, and a winter toque. They'll also have printable gift cards available on their website when it launches tonight. For their launch, OPG has lined up a number of playerse on the OHL's Peterborough Petes, former World Junior Championship Gold Medalist and Team Canada captain (1994) Brent Tully, and 14-year NHL vet Kris King to rock the gear on the website.
What does the future hold? Carleton says this is just the beginning.
"This is just the start for OPG, and we'll continue to grow with hopes of being in many pond hockey countries in the next few years."
With the rapid success of hockey-inspired clothing lines like Sauce and GongShow, it's clear that hockey players like to intertwine their style and their love of the game. With Original Pond Gear set to take on hockey's outdoor niche, now us outdoor players will have our go-to gear as well.
To check out and order your own Original Pond Gear, check out www.originalpondgear.com. They're also on Facebook and Twitter!