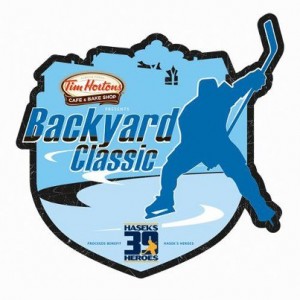 If I say 'Tim Horton', you probably think of the late NHL defenseman and co-owner of the cafe and bake-shop chain that dots Canada and parts of the US. If I say 'Dominik Hasek', you probably think of the unconventional goaltender who played seasons with the Sabres, Red Wings, Blackhawks, and Senators, earning six Vezina Trophies and a Stanley Cup along the way. And if I say 'Nick Penberthy', you probably think…who the heck is Nick Penberthy? That will change very soon.
The trio has teamed up, so to speak, to host the fifth annual Tim Horton's Backyard Classic, an outdoor hockey tournament in upstate New York. Sponsored by Horton's and benefiting The Dominator's charity 'Hasek's Heroes', Penberthy's Backyard Classic has graduated from a small, backyard-rink-based tournament to a full-fledged weekend event, taking place on January 12th and 13th at The Rose Garden in Williamsville, NY. It's a big step for the fifth-year tournament, which has grown from a one-day tournament featuring 24 players on six teams skating 3-on-3 on the backyard rink his dad helped build, to what Penberthy hopes will be 96 teams playing for an entire weekend on four outdoor rinks that he and his team of volunteers built two weeks ago.
"With the move to the Rose Garden, our event has secured its future in Buffalo," said Penberthy, a sophomore at SUNY Cortland. "It will also allow for future expansion to cater to the high demand for our outdoor 3-on-3 ice hockey tournament."
The tournament, which costs $125 per team of three skaters and one goalie, raises money for Hasek's Heroes, a Buffalo-area charity started by the former Sabres netminder that makes hockey available for lower-income families at no cost. Youngsters are provided equipment, instruction, and ice time in the hopes that they move on to play recreational hockey that might not otherwise have been available to them. To date, the tournament has raised nearly $30,000 for Hasek's Heroes. The 2013 tournament will also raise funds for an educational center in the Cazenovia Ice Rink for the South Buffalo community to utilize.
The THBYC is not only unique in that it isn't played on a pond, but that it utilizes goalies, standard nets, and orange street hockey pucks in lieu of standard black rubber. 200 pucks have been ordered for this year's event, which features separate divisions for adult, college, high-school, and middle-school players, a segment of the hockey community that doesn't often receive invites to adult-only pond events.
What are Penberthy and Co's plans for the future of this event? The sky is the limit, but the focus remains the same. Said Penberthy: "The focus will continue to be on the celebration of the game of hockey by taking it back to its roots and raising money so that more and more under-privileged children can experience the game of hockey which we all love so much."
With the growth of the event and its booming enrollment, other companies have come calling. This year's event is also sponsored by New Era, Coca-Cola, the Buffalo Sabres, and dozens of other local businesses. The hope is that these additional sponsorships will allow for a greater donation to Hasek's Heroes and a continued impact on the youth hockey landscape in Buffalo and beyond.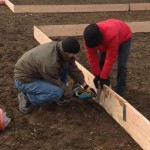 .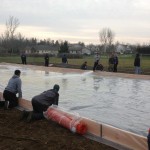 .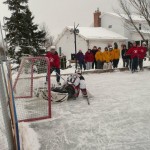 To find out more information, or to register as a player or volunteer, head over to http://www.timhortonsbackyardclassic.com. You can also find them on Twitter or Facebook, where there are pictures of past events. Download the event flyer here: http://www.backyard-hockey.com/wp-content/uploads/2012/12/THBYC_Flyer.pdf

For more information on Hasek's Heroes, visit http://www.haseksheroes.org