The Coolest Hockey Bedroom EVER is a series of posts chronicling the transformation from a boring bedroom to a hockey heaven for my toddler son. You can read about his dresser here, his locker here, and his headboard here. Have an idea for the room? Comment below.
Just about six years ago when we found out we were having a boy, I had visions of all-day backyard rink sessions, traveling to tournaments as a proud hockey dad, and having mini sticks and hockey gear strewn about the house. Of course I wouldn't pressure him into anything, but with a little luck, I was going to have my hockey-playing son. Fast forward, and not only is he hockey-playing, but he's hockey-watching, hockey-loving, and hockey-obsessing. He dreams about it, talks about it, and just about every piece of artwork he brings home from school references it. He ever drew a spoked 'B' on his lunchbox and put "Lucic" and "Chara" on his family tree. I can't make this stuff up.
Of course, as great as I think all of this is, there's a downside. With our twins almost walking, the hockey gear all over his room (and the living room, and the kitchen) needs to get up off the floor and in a safer place. We could always head to IKEA or Target and pick something up, but I told my wife I'd take care of it, and I did. Well, me and an old Sher-Wood.
My plan is to provide a place for him to hang his mini- and street-hockey gear, but obviously you could use this for hats, jerseys, and younger siblings if you so chose. And the build is super-easy. Here's what I did.
Find a stick
For things like this, I actually prefer a wooden stick. The hooks will hold better and it'll be a bit easier to work with than the composite stuff. All you need is a stick that was broken high on the shaft. Cut it, sand down any rogue slivers of fiberglass or wood, then throw on your best new tape job. If you want authenticity, then dirty up the tape with the palm of a used glove and a puck.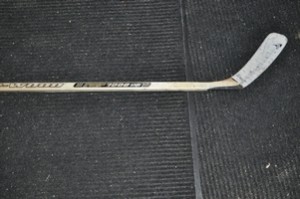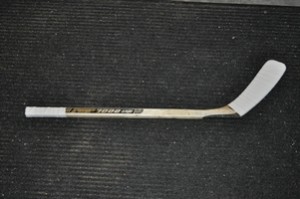 Add the hooks
There are no rules here. Want 10 hooks? Use 10 hooks. I went with three, even though they come in 2-packs at my local big box store. I spaced them out evenly and used the included hardware.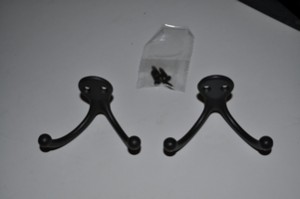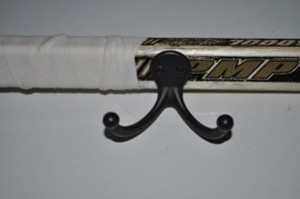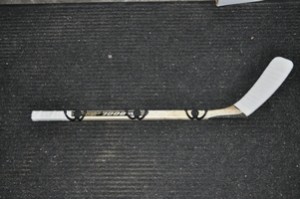 Mount up!
I drilled a pair of pilot holes, then made sure the stick was level before marking the holes on the walls. I highly suggest either spacing the holes out so they'll drill directly into a stud or using some sort of wall anchor. At some point your child is going to hang off the thing (or pull hard on something that's hanging on a hook), so you want to make sure you're not relying on drywall exclusively.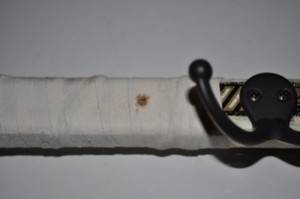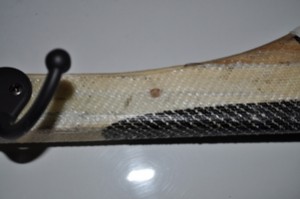 And that's about it! Now instead of finding one of our twins gnawing excitedly on the corner of his street hockey blocker, it's safely hung up, out of the way.
Now to do something about all this artwork he brings home…