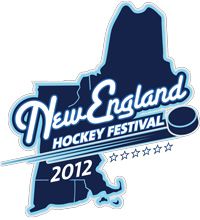 As I type this, my rink a slushy mess and our 4-foot-tall snowman reduced to an inches-high lump of snow, it's hard to deny that spring is on its way. Lucky for us outdoor hockey folk, there's one more event to savor. That event is the inaugural New England Hockey Festival, taking place March 17th and 18th in Providence, RI. Held at the refrigerated outdoor slab at the Bank of America City Center in downtown Providence, the New England Hockey Festival will showcase the sport and a handful of local companies through two days of on- and off-ice action.
Sunday morning will see youth hockey players from across New England take part in the Youth Hockey Skills Challenge, open for kids from the Mite level through high school. Skaters and goalies will be put through an NHL-like skills competition, with awards for fastest skater, accuracy shooting, puck control, and others. Participants will receive a Squad Locker hockey jersey (like this), a USA Hockey pin, a Reebok CCM hockey belt, and tons of other schwag in their player bags. In addition, all skills challenge participants will be entered into a raffle to win a $500 voucher to attend a Tim Thomas Hockey Camp, an autographed photo of Bruin Milan Lucic, an autographed puck from Bruin Patrice Bergeron, and more.
To register your child for the Youth Hockey Skills Challenge, visit www.newenglandhockeyfest.com. Use registration code HSC12 to get 20% off the registration fee.
But don't register just yet! The folks at the New England Hockey Festival have given us FOUR free entries into the youth skills competition to give away to our readers. Are you local to New England and have a child who wants to give it a shot? E-mail us with your kid's name, age, and why we should choose you. We'll select the four winners on Monday the 12th, giving non-winners enough time to register at the reduced price.
There will also be a free USA Hockey practice run by Roger Grillo from 10-11a on Sunday, open to anyone signed up for the skills challenge. Grillo, former coach at the University of Vermont and Brown University, a 1983 NHL draft pick, and current Regional Director of the American Development Model for USA Hockey, will put participants through the paces of a typical ADM practice. The American Development Model, a new training methodology that has been phased into youth programs throughout the country in recent years, focuses more on puck handling and skill building than past methodologies.
Saturday's on-ice event will be the Rhode Island Outdoor Hockey Charity Classic, a 21+ pond hockey tournament featuring 10-minute, running-time games. A sold-out field of four-person teams will compete throughout the morning and early afternoon, with one team capturing the title. The tournament runs from 8a to 1p.
In addition to the on-ice action on Saturday and Sunday, there will be a number of vendors and events taking place throughout the Plaza that surrounds the rink. Our friends Chris at HockeyTapeOnline.com and Doug from Skaboots will be there, the National Guard will be there with their rock climbing wall, the Providence College hockey team will be on site, and representatives from the Tim Thomas Hockey Camps will be present as well. Warrior, Reebok, CCM, USA Hockey, and Squad Locker are also involved, and yours truly will be on hand on Sunday.
So while I stare out the window at nothing but grass, bare pavement, and an unskateable backyard rink, I take solace in knowing that winter has a few more hours left in it. So if you're like me, the type of person who laments 60-degree days in March, make plans to check out the New England Hockey Festival in Providence next weekend. We'll see you there!
For more information, and for the latest on times and events, be sure to like the NEHF on Facebook!