The Coolest Hockey Bedroom EVER is a series of posts chronicling the transformation from a boring bedroom to a hockey heaven for my toddler son. You can read about his locker here. Have an idea? Comment below.
Selling a house and buying a new one can be a stressful experience, even for adults. Add in a routine-loving three-year-old and that raises the anxiety bar a few notches. So weeks before we closed on our new home, we started telling our son what the experience would be like. We wanted to make him excited for the move rather than nervous or scared, so we told him about the new yard, the neighborhood, the close proximity to his friends from daycare – we hyped it all. And we did what any parent of a sports-loving toddler would do – we promised him the coolest bedroom EVER.
For our son, that means a hockey room. More specifically, that means a Boston Bruins hockey room. I had a few ideas about what this room would look like, but when I turned to the internet for some more ideas and inspiration, I didn't find a whole lot. In my world, that means two things: wing it, then write about it. I'm no finish carpenter, and I'm a long ways away from my own design show on HGTV, but hopefully this helps someone out there who is looking for inexpensive ideas for a child's hockey bedroom.
If you've played hockey for any length of time, then you probably have most of the parts you'll need for this basic-but-cool dresser.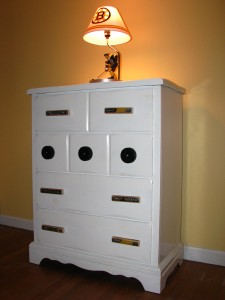 1 – Find an old dresser
The one I used started its life a couple decades ago in my childhood bedroom. At the time, it was dark brown stained unit with dark brass drawer pulls. If you don't have anything in need of refinishing around your house, then check your local craigslist for used dressers, or spend part of a Saturday at some local yard sales. You should have no problem finding one for under $50. Oh, and the older the better, as most of the cheap new stuff is made of particleboard, which is tough to sand or paint.
2Â – Prep and Paint
Remove the hardware, then sand and re-paint the dresser. I used whatever sandpaper I had laying around the garage, then threw on a couple coats of some cheap white interior paint. I told you – not exactly HGTV-approved. I chose white because I thought black or gold would be a bit much.
3Â -Â Plan the Pulls
While the paint dries, take a look at the layout of the existing pulls on the dresser drawers. You'll be replacing them with either hockey sticks or hockey pucks depending on what was there beforehand. If the drawers had pulls with two screw holes, you'll use cut pieces of a hockey stick. If they are just knobs with one screw hole, you'll use a puck. Count out the number of pucks and the number of stick pulls you'll need and write it down. For the drawers that will use the stick pulls, be sure to measure the distance between the two holes (note: 3″ is standard). For the dresser I used, I needed six stick pulls and three pucks.
Once you know how many stick and puck pulls you need, trudge out to wherever you keep your bag of pucks and your graveyard of busted hockey sticks. This is where your creative side comes out. Do you have some souvenir hockey pucks that will match the rest of the room? Use those. Are you using an old dented dresser and want to continue the look? Grab some beat up pucks with chunks missing. I ended up using three non-labeled, relatively new pucks for my son's dresser, but let your personality and the room's theme come out when making your decision.
The same advice goes for the stick. You can use wood or composite, but be sure you know what you're cutting so that you can use the right sawblade. Also be careful cutting anything with fiberglass, since it splinters easily into very fine pieces that can be a pain to get out of one's fingers. Also take into account the color of the stick, and any wording on it that you might not want showing once you cut the pulls to size  (ie, be careful when cutting mid-word on an old Titan stick, ahem). For my son's dresser, I used an old wooden Sher-Wood 7000 stick that was broken at the blade.
At this point you'll also want to obtain the necessary hardware you'll use to attach the pulls to the drawers. I won't tell you exactly what to buy since different hardware stores stock different items, but I went with a thin 3″ flathead screw, a nut for each screw, and a ton of washers of various sizes. I'll show some pictures of the pull install below, but the most important things to be sure of is that it will fit the existing holes in the drawer face, and that they are long enough to go through a stick/puck, a few washers, and the face of the drawer, with enough threads poking through inside the drawer to tighten on the nut. It may help to bring a screw you removed from the original pulls to verify the thickness of the new hardware you're buying.
4 – Create the Pulls
Since the drawer pull holes were 3″ apart and I wanted a bit of overhang on each end, I cut the stick into six 6″ pieces.  Because there was some fiberglass in the stick, I sanded it a ton. Your kids will have their hands all over these things for years, so it's best to make them as smooth and safe as possible before installing.
Once you have your stick pulls cut and sanded, place them into a vice and drill the holes that the screws will go through. For the pucks, just drill one hole directly into the center. For the sticks, you'll need to drill the holes to the exact width of the holes on the drawer face, and centered as much as possible on the pull itself (trust me, it'll look better installed if the holes are in the same place on every piece of stick).
If you're not good at this kind of stuff, here's the easiest way to do this (assuming your pull holes are the standard 3″ apart): Take a tape measure and measure the width of your stick pull. Put a mark directly in the center. Measure 1.5″ to the left of that mark, and put a dot. Then measure 1.5″ to the right of the center mark, and put another dot. Drill your holes on the dots.
4 – Install the Pulls
Again, creativity and winging-it at its best. I wanted the pulls to jut out from the face of the drawers a bit, and since I have zero patience when it comes to this stuff, I just bought a package of thick stainless nuts that were a size or two larger than the screws I was using. They did the trick, and I think the pictures will help show how I did this. Inside the drawers, use a washer and a nut to tighten each pull.
Voila! What you have now is a refurbished dresser with the only drawer pulls of their kind in the world! And if your son or daughter is anything like mine, they'll absolutely love it!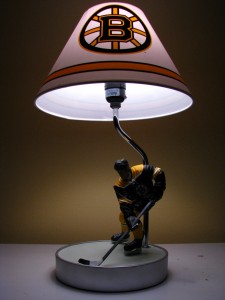 (An FYI…my wife found this great Bruins lamp at a local store, but it's made by a company called Guidecraft. It's available at Amazon, and fits perfectly with the rest of the room.)