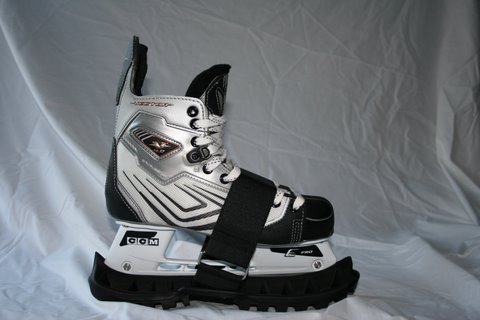 Our sister company, Elite Backyard Rinks, is now officially an authorized dealer of Skaboots walkable skate guards, and to celebrate, they're selling their first batch at over 30% off retail prices. You've read how awesome these things are (and if you haven't, then check out our review), so now's your chance to get a pair (or several pairs) for only $20 each. Skaboots retail between $26 (for size small) to $33 (for XLs), but all sizes are only $20 from EBR, and only until this case is gone.
As a bonus for Backyard-Hockey.com readers only, type in "backyard-hockey.com" in the Special Instructions section when you check out and they'll toss in some goodies to sweeten the pot.
To order, hurry over to the Elite Backyard Rinks Skaboots page. You can place your order using the Paypal shopping cart at the bottom of the page. Once this case is sold out, the prices go back up, so order today!