Whether or not you're of the entrepreneurial mindset, you undoubtedly run into a product every now and then that makes you say, "DAMN! Why didn't I think of that?" Get ready to say it again in about ten seconds.
Every backyard rink or pond hockey skater has had this same issue: do you get your skates on inside where it's warm, or risk frozen fingers by walking out to the rink and lacing 'em up in the cold? Skaboots gives you the best of both worlds.
So what are they? The name says most. Skaboots are just like those rubber skate guards you wore as a kid, only they're wider and the bottom is molded to mimic a hiking boot tread. This means you can get your skates on indoors, strap on the Skaboots, and walk safely out to the rink. Say it with me: why didn't I think of that?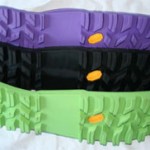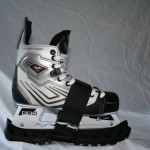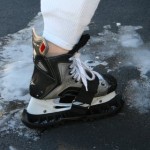 My oldest is five, and his Sunday morning hockey is a mad dash around our house, grabbing bags and bottles and equipment and food, for him and our twin eight-month-olds. A few months ago we started dressing my son in his gear at home, which cut off some pre-skate time at the rink. With the Skaboots, this means I can tie his skates in the dining room, and when we get to the rink, he can tear off the Skaboots and hit the ice.
We're a couple of weeks away from backyard ice here in New Hampshire, but you can be sure we'll be using these heavily all winter long. The walk to our rink includes a treacherous walk down our back porch steps, across the lawn, and onto the rink. It used to be that I'd dress my son completely indoors, carry him out back, put him on the ice, then return inside to grab my gear. This year? We're Skabooting it — both of us. You get the benefits of getting dressed where it's warm with the safety and practicality of being able to walk to whatever slab you're skating on, be it backyard, pond, or at the rink.
Putting them on is a piece of cake. Your skate blade slips into the familiar slot, then you loop the thick, sturdy Velcro strap up over your laces.
Skaboots are the brainchild of Doug Kimball, and are a locally-owned company based out of Holden, Massachusetts. And they are 100% made in the USA of durable rubber.
My apologies if this all sounds like sales copy, but it's because Skaboots are that good. My son uses them, I use them, and anyone who has to answer the "tie now, or tie in the cold" question should use them too. I have no financial stake in the product, so you can take my advice with confidence.
Lastly, one word of caution: if you're using Skaboots to put your kid's skates on at home, be sure to toss a pair of pants and sneakers into their hockey bag. That's a mistake you make only once (and never live down).
Skaboots can be ordered at a number of retail outlets or on Skaboots.com. Tell them you came from Backyard-Hockey.com!