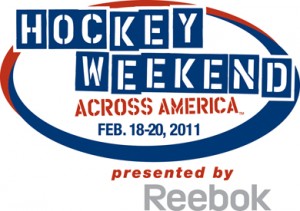 As many conversations with my four-year-old son go, my request was met with resistance.
"But I love my Eruzione one!" he shouted, pushing back against my request that he refrain from wearing his stark white #21 and go with his black AHL Manchester Monarchs jersey instead. He has a certain affinity to the 1980 captain, given that he's watched Miracle roughly 46,324 times. We live an hour north of Charlestown, but he does a perfect O'Callahan.
"For this one day," I reasoned, "let's just leave the Team USA jersey in your hockey bag. Besides, it's starting to stink and I don't think your teachers will appreciate it."
He seemed OK with my response, and hasn't brought it up since. But it's only Wednesday. And maybe he was just tuning me out.
We were talking, of course, about the kickoff to the 2011 Hockey Weekend Across America, that being Friday's Wear Your Favorite Hockey Jersey event. A hockey fanatic, this kind of thing is right up my son's alley. But aside from a slight change to the Friday wardrobe, what is Hockey Weekend Across America? We posed that question to Dave Fischer, whose 30 years in and around the game of hockey prepared him for his current role as the Senior Director of Communications for USA Hockey.
"Our tag line for Hockey Weekend Across America is Watch It. Play It. Live It. We'd like more people to watch the game, either on television or live; get more people to play the game; and through celebration have people thoroughly enjoying "living" the game," says Fischer, who oversees all communications, media, and public relations for the sport's national governing body.
According to Fischer, Hockey Weekend Across America was started in 2008 with two objectives in mind: to celebrate the game and those involved at all levels, and to expose hockey to new audiences. They do this with a loose framework of events, encouraging local markets to enhance the weekend with their own ideas. The framework set forth by USA Hockey involves three themed days: Friday is the aforementioned Wear  Your Favorite Hockey Jersey day, Saturday asks that you Bring A Friend to the Rink, and all are encouranged to Celebrate Local Hockey Heroes on Sunday.
"From there, it's really up to local marketplaces across the country at all levels to put programs in place to celebrate the weekend," Fischer says. "For instance, in Philadelphia, the NHL's Flyers have taken this concept and made it Hockey Week in Philadelphia. They celebrate the game the entire week, instead of just on the weekend. They build in programming that matches the themes we've established, but go way beyond that."
At the youth level, even non-NHL markets are encouraged to help spread the game. Fischer explains: "We're excited that more than 200 rinks in 48 states will put on a Try Hockey for Free event on Saturday in conjunction with Bring a Friend to the Rink Day. Our membership development department has worked hard on this initiative and we've received terrific cooperation from around the country. All total, we expect more than 4,000 new kids will try the sport that day." As a participant in a Try Hockey for Free day back in the fall, I can speak to its value in exposing kids to on-ice instruction. It's not just a glorified public skate — our experience with Chelmsford Youth Hockey was wonderful, with my son spending unstructured time on his own and interacting with trained coaches for two hours of free stick-and-puck ice.
USA Hockey's partnership with corporate sponsors has broadened HWAA's reach as well. "Hockey Weekend Across America is presented by Reebok and they've been an absolutely terrific partner of this event over the past three years," says Fischer. "Reebok is committed to both celebrating the game of hockey and expanding its reach, particularly at the youth level. We also have an important partner in Liberty Mutual Responsible Sports engaged as the sponsor of Sunday's Celebrate Local Hockey Heroes." Reebok even has a section of their website dedicated to the Weekend, giving away full sets of hockey gear to lucky contest winners.
NBC and the NHL are also embracing the idea. This Sunday will be NBC Sports' Hockey Day in America. Starting at noon and going until 6pm, the broadcast will feature three regional games and a national nightcap between the Penguins and Blackhawks. Intertwined will be stories of everyday hockey people, including a piece on our friends at the US Pond Hockey Championships in Minnesota. Set your DVRs now.
So what can you do to be a part of Hockey Weekend Across America? First, check out the USA Hockey website and see what's going on in your area. If you're a part of the hockey community, find out what your local youth organizations are offering, and try to rope in some non-hockey families along the way. If you're looking to get your child involved, there isn't a better way to do so than Try Hockey for Free days, which are held at local rinks nationwide (see the map here). And of course, wear your jersey on Friday and upload your picture to the USA Hockey Facebook page.
Which brings us back to my son.
I brought him to school this morning, and his teacher excitedly told me that he'd been talking about 'hockey jersey day' all week, and that as a result, they were going to encourage the whole class to wear jerseys if they had them. I beamed with pride. We say right on this website that our goal is to help grow the game of hockey by sharing our passion for the game with others. And here was my little four-year-old, innocently and unknowingly doing just that.
Maybe I'll let him wear his #21 Eruzione jersey after all. Let's just hope they don't break out the paint brushes.
Update: the black AHL jersey it is! See how we kicked off HWAA in our Facebook gallery!
Are you and your family taking part in USA Hockey's Hockey Weekend Across America? Share your story with us in the comments.
Big thanks to Chris Peters of www.unitedstatesofhockey.com and Dave Fischer of USA Hockey. Be sure to visit both sites and follow each through their social networks:

United States of Hockey:
http://twitter.com/#!/chrismpeters
http://www.facebook.com/pages/The-United-States-of-Hockey/183755444989467

USA Hockey:
http://twitter.com/#!/usahockey
http://www.facebook.com/USAHockey