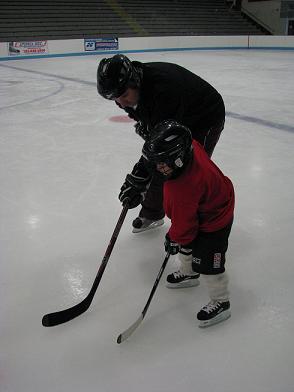 Just wanted to give a big "thank you" to all the folks at USA Hockey, One Goal, and Chelmsford Hockey Association for their work in putting together today's New England Hockey Day. We had originally planned on taking part at one of our local rinks, but changed our plans last-minute and couldn't make the scheduled time. In stepped CHA President Scott Millin, who invited us down south to his home rink for their slot a bit later in the day.
And what a day it was! We were greeted at the Chelmsford Forum door by Mr. Millin and a bag of hockey schwag, which included a mini-stick and killer USA Hockey jersey. After gearing up, my four-year-old spent the better part of two hours on the ice, by far his longest uninterrupted stretch. There were a handful of first-timers there, and it was great to see the CHA coaches take the time to get these kids up on their feet and having fun. Their patience and expertise shone through, and reinforced the reality that USA Hockey has some tremendous people volunteering under its marquee. I can only imagine similar scenes playing out at the dozens of other NEHD sites.
Thanks to Scott and all of the CHA coaches for a wonderful day out on the ice! To see if there's an event upcoming in your area, bookmark this page on the USA Hockey website.
Did you and your family partake in today's festivities? Let us know where and how it went by commenting below!