UPDATE: Like Glass Joe after a couple of knock-downs, the Frozen Faceoff is getting up off the mat! Instead of being cancelled, the tournament is being rescheduled to next weekend, February 5th and 6th!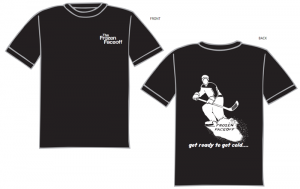 Mother Nature can be a nice gal. After all, if she didn't provide us with frigid temperatures for half the year, the game of hockey might not exist, and we wouldn't be able to experience the joys of outdoor hockey as we do today. But sometimes, to steal a line from my friend Scott, Ma Nature pulls an Ulf Samuelsson. Such was her approach in the town of Ashfield, MA, host town for what was to be the second annual Frozen Faceoff pond hockey tournament. Constant snowfall over the last month left the ice surface in terrible shape, and even with their round-the-clock ice maintenance efforts, organizers Pat Falla and Ben Crosby decided to cancel this year's event.
As a participant and pond hockey fan, those announcements are always tough to read. As an organizer, they must be excruciating to write. But the duo has learned from this year's preparation, and have vowed to return in 2012.
As the event was to take this weekend, the Frozen Faceoff is stocked with t-shirts that were to be sold at the tournament. In an attempt to recoup some of the money spent to organize the event, Falla and Crosby are selling the shirts at local rinks as well as online. The proof of the shirt is on the right. If you are interested in purchasing one, and helping out a great event in the process, email frozenfaceoff@yahoo.com. The shirts are $12 (USD) shipped.
Mother Nature may have won the game. But my money is on Falla and Crosby for the series.