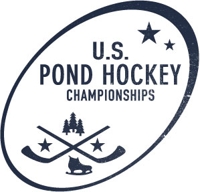 When TST Media acquired the US Pond Hockey Championships from founder Fred Haberman, the first ripples of change were felt. The press release quoted TST CEO and Co-Founder, Justin Kaufenberg, as saying that his team had "a number of ideas and events that we will bring to this year's tournament." Pond players watched and waited.
With formidable technological expertise equaled only by their hockey passion, the TST team set out to reestablish the bar for outdoor hockey tournaments. Now that their first tournament is in the books, it's clear that they knew what they were doing. Haberman may have built the framework for the largest outdoor tournament in the country, but Kaufenberg and Co took it to the next level. They harnessed the power of social media. They invited the world into their pre-tournament meetings. They showed us the inside of their equipment stockroom and posted daily progress updates as tournament weekend approached. They commissioned artists. They invited teams to upload logos and rosters, then updated scores in real time as the games were being played. In all, the team at TST offered a level of transparency and interaction not seen before in outdoor hockey events. The result was that while only 1,200 players stepped over the NiceRink boards, the rest of the world felt like a part of the event. TST's open approach made it so.
A central component to this transparency was the liberal use of video. By lunchtime on the tournament's first day, the US Pond Hockey Championship website had a fully-produced video that summarized the day to that point. Anyone in the world could, with a few mouse clicks, witness how incredibly insane and dedicated the USPHC participants were. The video was well-done and timely, a theme that continued throughout the event.
The man responsible for this video is Ryan Hickok, a Bemidji State graduate, self-appointed "hockey fanatic", and owner of BB-Cue Productions, a Minnesota-based production company. Hickok spent a majority of the frigid tournament weekend on the ice, but instead of skates and a stick, he was armed with his camera (and, presumably, some serious long underwear). Over the next few weeks, we're going to share with you some of the videos shot and produced by Ryan. They all revolve around the US Pond Hockey Championships, but the scenes could very well be from any of the nearly 100 tournaments taking place this winter all across the continent. And anyone with a hockey bone in their body will appreciate them.
The first of these videos is titled "Saturday Morning Pond Hockey." We hope you enjoy, and welcome your comments below.
Big thanks to Ryan at BB-Cue Productions. Please visit their YouTube channel and follow their social networks:

http://www.facebook.com/BBCue.Productions

http://twitter.com/#!/BBCueProduction

http://www.youtube.com/user/BBCueProductions

And don't forget Justin, Carson, and the rest of the US Pond Hockey Championship team:

http://www.facebook.com/USPondHockey