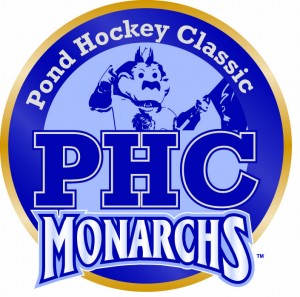 If you've been wondering when you should register for two of the premier pond hockey tournaments in the Northeast, now would be a good time. Today is the LAST DAY to register for both the Lake Champlain Pond Hockey Classic and the Manchester Monarchs Pond Hockey Classic.
The Lake Champlain Pond Hockey Classic will take place on February 18-20, 2011, on Lake Champlain in Colchester, Vermont. This is the first of what will become an annual event, and if the the success of the New England Pond Hockey Classic is any indication, you'll want to make sure you get your team in this year to ensure easy entry into future events. Registration is $500 per team, which guarantees you four games. In addition, every player will receive entry into all tournament weekend events, as well as a player gift bag that includes a tournament gift, coupons to area businesses, and other schwag. To register, visit the PHC website.
The Manchester Monarchs Pond Hockey Classic is the first event of its kind in the Queen City of Manchester, NH. Scheduled for February 12th on frozen Dorr's Pond, the MMPHC combines the hockey history of the LA Kings' AHL affiliate with the pond hockey professionalism of the PHC team. To register, contact Stephanie Loebl at 603-626-7825 ext 6109 or email sloebl@manchestermonarchs.com.