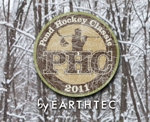 Fresh out of PndHcky Labs come these details around the second annual New England Pond Hockey Classic, slated for February 4-6 on Meredith Bay in New Hampshire:
First, player check-in for the tournament will be taking place on Thursday, February 3rd, from 5-9pm in the Flagship Ballroom at the Chase House Inn. The address for the Chase House is 312 Daniel Webster Highway in Meredith, NH. Players wishing to check-in on Friday will need to notify PHC staff prior to tournament weekend. They may do so here.
At the check-in, players will receive a Player Pack sponsored by Earthtec. It will contain a tournament program, coupons and discounts to area restaurants, player passes, and a gift.
After players check-in, the fun begins. From the PHC website:
After Players have checked in Thursday night, it is over to Lago for a PHC Welcome Party and Muscle Milk Skill Competition under the lights in front of Bay Point from 7:30-10:30. Participants will have the opportunity to participate in a Hardest Shot and an Accuracy Shooting Competition, which is open to the Public.

Participants of the Hardest Shot competition will be encouraged to take 3 shots of which the hardest one will stand. The Accuracy Shooting Station will involve a front loading washing machine and five pucks. Participants will be timed and the number of pucks shot into the washing machine and the time it took will be recorded.

At 9:30, the five individuals with the hardest shots and the five individuals with the most goals in the shortest amount of time will be called out from the crowd to return to the shooting stations for a Playoff. They will again compete in respected competitions with the winner of each receiving a Swag Bag from Muscle Milk.
There will also be promos and giveaways from the other key sponsors throughout the night, with game action beginning Friday morning. For the full text of the PHC's most-recent announcement, visit their website.
If you're heading up to Meredith, send me an email and let me know! We'll see you in 16 days!