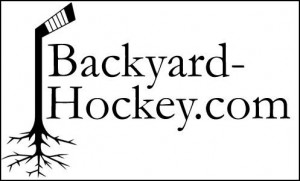 Backyard-Hockey.com has grown tremendously in the last several months, and what started out as a simple running diary of my backyard rink adventures has grown into a full-fledged destination for the hockey purist.  The site is only two months old, but we've just surpassed 2,000 page views, with visitors from the US, Canada, and as far away as Russia, Sweden, Norway, and the UK. 
As you've likely noticed, I've expanded the breadth of topics to include anything that relates to hockey in its simplest form. Â From street hockey to pond shinny, from backyard rinks to table hockey, my goal for this website is to bring readers back to a time when they discovered their passion for the world's greatest sport. Â There are thousands of websites that address the goings-on in the professional hockey ranks, but it's the everyday hockey player, coach, and fan that keeps the fire ignited at the most basic of levels. Â This website is for those people.
So what can you expect from Backyard-Hockey.com?
I'll continue to spread the word about events that bring hockey people together, and our list of North American pond hockey tournaments continues to be the most popular page on the site.  I have a whole slew of posts drafted up that tell the personal stories of people who go to great lengths to share their love for the game with family, friends, and, sometimes, complete strangers.  Bob DeGemmis and his quest to spread the grassroots street hockey gospel was the first in our B-H.com Profiles series.  Stay tuned for more posts like that one.  I'll also do my best to educate and inform my readers by reviewing all things hockey, as well as writing in-depth how-to articles on a number of relevant topics.  And lastly, I'll share with you video clips and movies that I think will entertain, inspire, and motivate.  Go ahead, watch Pond Hockey in its entirety.  I dare you not to get some serious hockey fever.
In addition to sharing my plans for upcoming content, I also wanted to point out a few ways that might help you get the most out of Backyard-Hockey.com. Â I understand that not everyone wants to visit a website every day to check for new content. Â If you fall into this camp, there are a few new features that might help. Â If you're familiar with RSS feeds, feel free to subscribe to both the post and comment feeds by clicking the links on the top right. Â Each time a new post is published, your reader of choice will be updated. Â If you don't know RSS from CCM, and you'd like to get our new posts sent to your e-mail instead, enter your address into the field in the left sidebar, under the 'Ice Your Inbox' heading. Â Doing this will send each new post directly to your inbox, without having to navigate to this site or your RSS reader. Â Lastly, we've joined the 21st century and created a Facebook page. Â I'll update our Facebook wall with each new post, and you'll be able to read, comment, and share it with other hockey purists. Â To view the wall, click 'Become a fan' at the top of the Facebook page.
But enough about us. Â What can you do to help grow this movement?
Simple: don't hesitate to contact us!  Are you running a hockey event in your town?  Do you know someone whose love for the game inspires others to give it a shot, and whose story would move others to do the same?  Have a product, book, or piece of equipment that you'd like to see reviewed?  Please let me know!  You can reach us in a few different ways: You can send an e-mail using the 'Contact Us' page, you can use the comments section under each post, and you can write on our Facebook wall. 
In closing, a sincere thank you to all of you who have inadvertently helped shape this site and who have unknowingly reignite my love for this sport.  The more I write for this blog, the more incredible hockey people I meet.  Each encounter leaves me feeling like I can give so much more back to the community that helped mold who am I today.  So I'll do my best to do just that: provide you with fresh content that strips away the business side of hockey, leaving only the pristine ponds, plywood boards, and friendly faces that make hockey the greatest game in the world.
This site is still in pre-game warmups.  And I'm hoping for triple overtime.