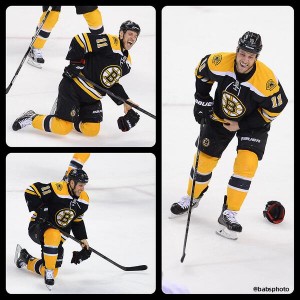 On Wednesday night, Boston Bruins' fourth-line center Gregory Campbell laid out to block an Evgeni Malkin slapshot. The game was tied at one late in the second period of a pivotal Game Three, and the Penguins were pressing in the midst of a power play. The shot struck Campbell in the lower leg and his reactionary yelps of pain were audible within the Garden. With the puck in the Penguins' possession, there would be no whistle, per NHL rules. So Campbell fought his way to one knee, grabbed the glove he'd lost blocking the shot, and struggled to his feet. Pittsburgh's talented power play buzzing around him, he hobbled into passing lanes, tipping a pass at one point, until the Bruins were able to clear the puck 45-seconds later. Campbell skated — SKATED — to the bench and was assisted down the tunnel to the locker room.
The following morning, we learned he had broken his fibula on the play. Since then, he has been deservedly lauded by commentators, writers, teammates, and foes for his dedication, toughness, and courage in the heat of battle. He's deserved every word of it.
During the hockey playoffs, particularly in those cities and towns whose teams are still playing, there tends to be an increased focus on a sport that often goes unmentioned by the mainstream for most of the winter. These days, the Bruins are omnipresent in these parts, on Facebook news feeds and non-sports segments of the 6pm news, the team's recent success fueling commentary by folks who know not of two-line offsides or rinks without the trapezoid. And there's nothing wrong with that — success breeds attention on a deserving sport, which ultimately helps the game right down to the youth level.
But here's the thing. With all of Campbell's bravery and toughness and balls, what he did is relatively commonplace in the game of hockey. Yes, I said it — what Campbell did on Wednesday night borders on normal within our great game. Now please, don't misinterpret this — he is still brave and tough and has a huge heart and all of those things, but so too are 99% of hockey players brave and tough and full of heart. I was fortunate enough to be in the building Wednesday night, and participated in the crowd's roar of appreciation and chanting of "Campbell! Campbell!" during the play and for a minute after he left the ice. But what folks new to the sport fail to grasp is that acts of valor and toughness are analogous to the game of hockey.
At some point in every player's growth, you begin to understand and recognize that hockey players are a different breed. When I was eight years old, the story broke that Oilers defenseman Kevin Lowe had played the entirety of the playoffs with a broken wrist in a cast and hiding broken ribs. As a 13-year-old, I watched Cam Neely grit through knee and hip injuries, which would eventually end his career, on his way to scoring 50 goals in just 44 games played. In Game 7 of the Eastern Conference Finals in 2011, finesse scorer Steven Stamkos took a Johnny Boychuk clapper to the face. He was stitched up, had a cage attached, and returned to the same game. There are hundreds of stories like this. Of toughness, of character, of grit and determination and all those other important words that hockey players feel a responsibility to display. And that's what Campbell was doing — by getting to his feet and gritting out the final strides of his 2013 season, he was simply doing what he (and all hockey players) has done his entire hockey-playing life: toughing it out for the betterment of the team. It's what we do.
This toughness is not exclusive to the NHL. Go watch a youth tournament in Connecticut or Minnesota or Quebec – you'll see kids taking shots off the foot, hobbling through a shift, then grimacing the pain away on the bench. Check out your local high school playoffs. Seniors with lingering injuries, playing perhaps the final games of their career, teach character to their younger teammates by gutting through the pain in practice and practically ignoring it in March playoff games. I've seen it in men's leagues, home of washed-up has-beens and never-weres. A high stick or deflected puck, a bit of blood, a bandage or dab of petroleum jelly, and a demonstrative "I'm FINE" is all it takes for play to continue.
I've written before about all the wonderful lessons the game of hockey teaches our young people. Time-management, sacrifice, how to handle winning and losing, how to be a leader. And you can add 'toughness' to that list. One of Jack Falla's famous quotes is "You gotta play hurt." Most folks would interpret that quote in the context of athletics. But Falla said that to a journalism student in his course at Boston University who had missed an early-morning class due to illness. That student, Mark Feinsand, is now a writer for the New York Daily News. The lesson, that "you're not always going to feel great, but the job comes first," is important and applicable to life in general. Hockey, and hockey people like Jack, help teach these lessons.
As a hockey player, you learn at a young age that when you're hurt and can play through it, you do. It's an unspoken rule adopted and defended by hockey players around the world, from youth to pro. Everyone who plays the game feels and accepts the responsibility of that silent rule — to put the team first and to do your job, even when it really friggin' hurts.
Campbell could have stayed down. With the puck in the Penguins' possession, play would have continued and the Pens would have effectively had a lethal 5-on-3. By getting up, Campbell took up a passing lane, stood in a shooting lane, and did his job to the best of his one-legged abilities. It was a defining moment of what ended up being an incredible game, and will be recounted for years to come. And while he deserves every ounce of credit he's been given in the last 34 hours, he'll be the first to say that he was just doing his job. It's what hockey players do.
Everyone reading this who's ever taken a one-timer off the laces is nodding in agreement.
As I conceptualized and wrote this post, the concussion story kept popping into my head. It's relevant and related, as the toughness and win-at-all-costs mentality is partially to blame for so many players trying to play through head injuries that probably should have sidelined them. But I think that with new technology and a more widespread understanding of the long-term damage that head injuries can lead to, more players are willing to take a necessary break from playing when the injury occurs north of the neckline. And rightly so. Hockey players are tough and resilient and all of those things, but they also want to play for a long time. And while a broken wrist or busted rips or achy knee hurt like hell, none of them will have the long-term, life-altering impacts of multiple concussions in a short period of time. I'm thankful that sports has made the turn towards a more delicate handling of head injuries, and even with the warrior mentality omnipresent in the game of hockey, that most players are willing to stop short of playing through concussions. Even toughness has its limits.