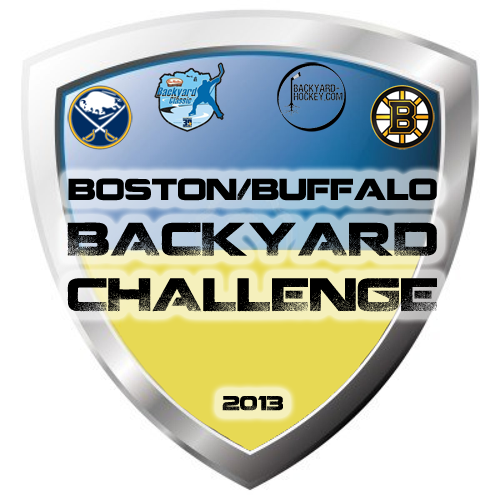 We don't talk much about the NHL here at backyard-hockey.com, and for good reason: there are probably thousands of blogs and websites out there that already cover it from every conceivable angle. That said, we're still fans, and based on the zip code I was born and raised in, I'm a proud fan of the black and gold.
My buddy Nick Penberthy runs an event we wrote about last month called the Tim Horton's Backyard Classic, a outdoor-rink-based tourney that has raised over $30,000 for Hasek's Heroes, a Buffalo-based charity that allows inner-city youth to play hockey for free. Nick's event started in his own backyard but has graduated to a four-rink setup behind a local restaurant, a true rinks-to-riches story that is amplified when you learn that Nick is still in college. But for all the good he's done for the outdoor hockey community, there's one fact about him that we can't overcome. He likes the SABRES. Ew. Let that wash over you for a bit, then come back once you've showered.
The Bruins/Sabres rivalry, at least for me, goes back to my days as a kid in the 80's and early 90's, watching Neely and Bourque battle LaFontaine and Mogilny, with neither team taking home the Cup (thanks a lot, Gretzky). After a bit of a lull between the two teams, things heated right back up last winter when (depending on what side you're on), Milan Lucic either steamrolled Ryan Miller in a vicious attack or Miller leaned in a bit too close for a smooch. Either way, tempers have flared in every meeting since.
And so although we don't do a lot with the NHL, today marks the official start of the Boston/Buffalo Backyard Challenge. Conceived before the season got underway, the challenge is simple. The Bruins and Sabres play four times this year. If the Bruins win 3 of those games, we win. If the Sabres win more head-to-head matchups, Nick and his Backyard Classic wins. In the case of a tie, we'll go to overall points at the end of the regular season.
The stakes are simple but grand. Up for grabs is a one-week rental of the other page's Facebook cover photo. For those who aren't on Facebook, the cover photo is the 851px wide by 315px tall image that adorns the top of each page. Right now, the Backyard Classic cover photo is his event logo over a picture of tournament action. Our cover photo is of our sponsored rink sign at last week's New England Pond Hockey Classic. But on April 27th, lasting until May 3rd, one of those images will change! If the Bruins have more points than the Sabres, we'll design a cover photo that will invoke the horrid memories of the Sabres' Cup-less 40-year existence. If the Sabres beat out the black and gold, Nick will have a chance to design our cover photo.
Yes, we both love backyard rinks and outdoor hockey and sharing that passion with others. We also LOATHE each others' teams. So please, shoot over to the Tim Horton's Backyard Classic Facebook page and give them a like. You'll want to be sure you can witness the carnage when the Sabres fall apart at the hands of the big bad B's.