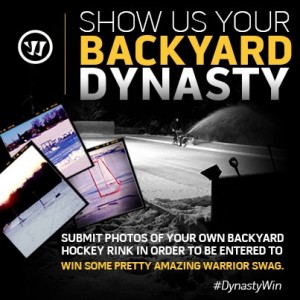 Much of what we backyard rinkmasters do is hidden from the limelight. The 10pm floods, the Saturday afternoon sessions with the snowblower, the constant manicuring of ice pocked with branches and leaves and bumps — all hidden from view when friends and families arrive. They think it just freezes that way, not knowing the countless hours of thankless work that goes into it. Well, thanks to the folks at Warrior, consider this your coming-out party.
"What better way to reward hockey players and enthusiasts for hard work and dedication to the backyard rink than giving them a forum to show off their work AND reward them with awesome prizes," said Christine Knight, Brand Manager for Warrior Hockey, when we spoke to her last week. "Most of the folks in our offices grew up with rinks or are currently building them to this day, and we recognize that a home rink is a very specialized project – each one is unique while requiring great dedication and patience. We've done lots of contests in the past, but this one really taps into the core of why people love hockey."
The contest she's referring to is the newly-launched Backyard Dynasty contest, which also marks the release of Warrior's new Dynasty AX1 stick. Warrior is looking for pictures of your backyard rink in all its glory, and they're offering up some filthy prizes as an incentive.
The Grand Prize is a huge collection of Warrior awesomeness: a stick rack full of 20 Warrior Dynasty sticks, a Warrior rink banner, Warrior toques, and a puck bag full of pucks, all of which has a retail value of over $5,000USD. 20 second prizes will be awarded, consisting of one Dynasty stick, and Warrior toques, banners, and pucks, valued at $370.
To enter, visit this Warrior Facebook page and upload your photo, making sure to enter in all your contact info. Alternatively, you can enter via Twitter or Instagram by using the hashtag #DynastyWin. Warrior is accepting entries from now until February 26th. Judging will take place from the 26th to the 28th, and winners will be announced on March 1.
I asked Knight what was it about backyard rinks that appealed to Warrior:
"The work required and the complexity of the process – everyone that builds one has a process unique to them. We want to know more about that and allow people a forum to show off their hard work. And at the end of the day, is there anything better than being able to step right outside your door and go for a skate? Cold lungs, heavy breath, time with friends and family. We know it and appreciate it as hockey fanatics ourselves!"
And so as we slide down the back half of February, with the bulk of our skating season behind us, let's use this contest as one last reason to get the old girl looking dapper, saying cheese, and hopefully winning you some sweet rink schwag.
The full official rules, should you be into beautiful, flowing legalese, can be found here.