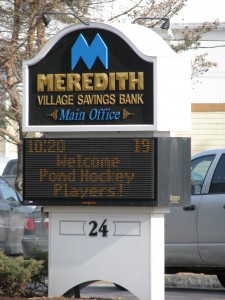 I launched Backyard-Hockey.com back on February 1, 2010, mostly as a collection of musings about my own backyard rink with a couple of how-to posts mixed in. Three days later, I drove an hour north and played in the inaugural New England Pond Hockey Classic, the first pond tournament anyone around here had ever played in. I came home that Sunday night, wrote a review, and started brainstorming about how I could get involved in what I was sure would be the next big thing in hockey. And thanks to some incredible hockey people taking hockey back to its roots, that's exactly what it's become.
As we officially launch our 2013 Pond Hockey Tournament Listing, the tally is up to 99 active and recurring tournaments in the United States and Canada for this season. That's 99 opportunities to get the boys (or girls) together for a weekend away, reminiscing about the past, enjoying the present, and making plans for future years. 99 chances to pre-emptively take Monday off to rest the old bones and give it hell for a few days under the clouds and stars like you did decades ago. 99 events that grab hold of the world's greatest game, squeeze it back out through the arena doors, and plop it down among picturesque scenery and an energy that can only be replicated when adults are free to act like carefree kids again.
The US leads the tally with 56 total events to Canada's 43, but Ontario's 17 events tops all regions. New England and Michigan share the spot for most events in the US, and all told, pond hockey will be played in 14 different regions across North America. There's a certain magic and mystique to playing under the open skies, and as long as you live in a climate that supports it, chances are there's a tournament near you. And that's where we come in.
This year marks the third season of our comprehensive North American Pond Hockey Tournament Listing. Since we launched, we've remained focused on a singular goal: to help get pond hockey tournaments all over North America in front of as many people as possible. The numbers say it's working. To date, nearly 50,000 people have viewed our North American and Regional listing pages, with over 22,000 views of our dynamic google map. And perhaps my favorite stat, over 36,000 people have clicked OUT to tournament pages from our listing. That's proof that the listing is working to grow the game and help promote these awesome grassroots events.
Once again this year we've teamed up with a handful of Gold Sponsors, events that have chosen to work with us to take their event to the next level. For 2013, these events are:
–New England Pond Hockey Classic (NH)
–Montreal Pond Hockey Festival (QC)
–Vermont Pond Hockey Championships (VT)
–Pabst Blue Ribbon Colorado Pond Hockey Tournament (CO)
–Midwest Freeze Leinenkugel's Classic Pond Hockey Tournament (WI)
We are psyched to work with these events and to help promote them to our readers throughout the season. Look for more detailed information on these events as the season goes along.
Most importantly, though, I implore you to check out an event near you. I can't tell you how many times I've sat on the sidelines of a pond hockey tournament game and heard someone slap their buddy on the back and say "SEE, I TOLD YOU we should have put a team in!" Don't be either of those guys – check out an event near you, sign up to put a team in, and soak in all that's great about outdoor hockey. The NHL might be in a lockout, but the pond hockey community is rolling along, growing larger, and ready to welcome you. So what are you waiting for?