About three months ago, my wife and I were driving on the highway when she came across some startling news by way of her smartphone. A man in Massachusetts, about 90 minutes away, had gone missing. He had a recent history of medical issues and had simply wandered away from home, telling his parents he was going for a walk. It had been a full 24 hours since, and aside from a local park ranger seeing someone who matched his description early that morning, nobody else had seen or heard from him. My wife didn't know him well, but had met him a handful of times when we had first started dating. He was my high school hockey teammate.
A small, stocky, hard-working player, Mike's size was made up for by determination and hustle, the type of role player that is a necessity in the world of public high school sports. He was good for a half-dozen goals a year, a few of them big, but like many high school players, his last game in a West High sweater meant the end of his competitive career. From November through March we were together daily — at afternoon practices, weekend games, on the school buses on the way to away tilts, and at Friday night pasta parties, the carb-loading and bond-building house parties the parents would host before our Saturday night games. Mike was always there but by no means a tour of verbal force, content to be just one of the boys. He was a good kid and a good teammate by any measure.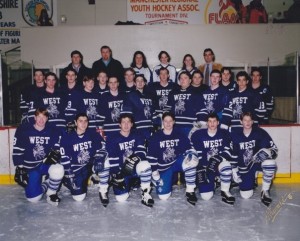 As tends to happen, I lost touch with Mike after I went to college, when he was still a senior at our school. As Facebook became relevant, we linked up again, but only with a couple of quick comments and perusal of personal photos. The years went by, my odometer clicked past 30, and my days were filled with job tasks, house projects, and raising my kids. That's to say that my reaction that day on the highway completely surprised me: I was shaken, upset, and worried.
I went home that night and couldn't stop thinking about him, about where he might be, about what could have happened. I reached out to his dad on Facebook. I Googled for updated news reports. I blasted out information via social media to anyone that would listen. Two days passed. Three days passed. Then, on that Friday, relief. Someone in Connecticut had driven by a man walking on the side of a highway and called police. It was Mike. Dehydrated and clearly in need of some mental help, he was safe.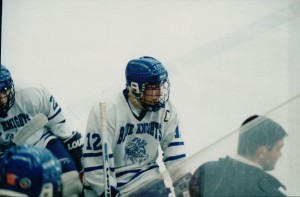 My shoulders dropped and I breathed deep. It was that night when I started to reflect back on my emotions and my reaction to the situation. Why was I, content and safe in my current 31-year-old existence, so profoundly impacted by the disappearance of a person I hadn't seen for more than a decade? Why was I laying in bed at night worrying about a person who I might not even recognize if I saw him tomorrow?
As much as my response and reaction surprised me, the reasoning was much more obvious: what we had shared over a decade ago bonded us closer than I had ever realized.
I've written before that hockey is a tremendous teaching game. Sure, you learn how to skate and shoot and pass. But along the way, from youth hockey to those high school bus rides, players learn things like selflessness, teamwork, and leadership. Juggling homework, sports, and a social life teaches prioritization and time management. Skipping out on midnight movie premieres the night before a home game teaches sacrifice. Many of these skills are transparent or difficult to comprehend at the time. It's not until years — or decades — later that players are able to work through a project in a college class or navigate the maze of work and life using skills they unknowingly developed at the rink.
But it's not just the skills that develop during the rigors of a hockey season. So too do the relationships with teammates. While all sorts of personalities play youth sports, by the time the high school teams are assembled, you're left mostly with kids who want to be there and want to succeed. Our high school teams were represented by three feeder towns, yet many of us had grown up going to school and playing travel hockey and little league together. We never hung a banner in the gym, but our high schools teams were talented and we battled into the playoffs in each of my three years.
I have a lot of great memories from my high school hockey days. Our quarterfinal overtime thriller over Nashua. My first goal in the pre-season jamboree my sophomore year. Numerous battles against the catholic high school across town where some of my best friends played (and where my then-girlfriend, now-wife attended). But a majority of my high school hockey memories took place in front of non-hockey backdrops, comprised mostly of foolish pranks and off-color jokes not suitable for print. Those moments are quick and fleeting at the time, just another batch of laughs thanks to a locker room gag. But when I look back at the three years I played in royal blue and white, these are the things I miss the most. You tend to spend long hours with teammates over the course of a season, and these hours lend themselves to strong bonds and lasting friendships.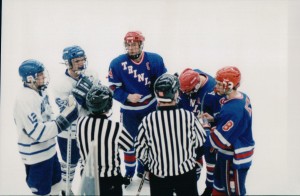 But we can't say that the bonds we form with our teammates is strictly a matter of time spent together. Were that true, then I'd have strong ties to the kid I sat next to in Geometry every day for a year or the people on my junior high bus who I saw twice daily for two years. No, there's more to it than that, and I think it goes back to how that time together is spent. Instead of just sitting in a classroom or rumbling down the road in a school bus, teammates spend a majority of time working their asses off for a common goal, fighting through afternoon practices, battling at city rinks on Saturday nights, and generally standing shoulder to shoulder against a common foe for most of their high school years. THAT is what I realized, only recently, made me react such as I did when one of our own went missing.
I think hockey is unique in this respect. Baseball has clearly-defined individual roles, and football has entirely different offensive and defensive units. Basketball teams have single units, but without the sometimes brutal physicality of hockey. And so in my youth and into my late teens, I took part in a sport where our individual and team success relied as much on what I did as what the person sitting next to me in the locker room did. From the captain to the third-string goalie, those 3-4:30 slots at West Side Arena tore us down and built us up, they prepared us for our weekend tilts, and they made us all closer. Even if it took 15 years to realize it.
Jack Falla once said, "Never put your total trust in anyone you didn't play sports with," and as usual, he's exactly right. Surely trust can be built up outside of the rink, and for the most part, it typically is. But there's a different type of trust — a deeper form — that comes with watching your classmate dive in front of a slapshot with 10 seconds left to go or stand cage-to-cage with an opposing forward after he took liberties with your goaltender. At the most basic level, we were a bunch of public school kids who were assembled in the same building based on where our parents lived. But in that locker room, pulling on the royal blue and white, we were a team, a unit, and the closest of friends.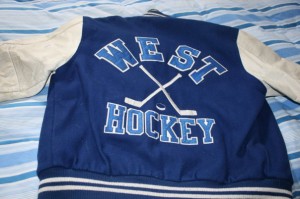 I don't know if I'll ever see Mike again. I'm happy that he was found and hope that he gets the help he needs to turn his life around. He was a quiet, hardworking kid who has clearly come upon some tough times. But he's also young, and my hope is that he can channel the work ethic I observed long ago into his now-30-something year old life and get back on the right track.
For me, this experience was equal parts terrifying and profound. I have always looked back fondly on my high school hockey experience which, at the time, was the most important things in my life. It sounds altogether very "Glory Days"-ish, but I'd be disingenuous if I didn't speak freely of the lessons I learned, the memories I have, and the brotherhood I'm still a part of as of a result of my days at the rink. It's a pretty incredible sport, hockey, and I'm humbled that a decade after my last meaningful game, I'm still learning and benefiting from it.