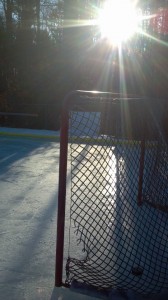 It's been a couple years since my little backyard rink blog became Backyard-Hockey.com in February 2010, and in that time we've seen our traffic grow to levels I never thought I'd see. We've been fortunate to form a great little community here on the site, on our Twitter and Facebook pages, and on the Backyard-Hockey.com Forums. But while many of our early readers might know the lay of the land, I wanted to put together a roadmap for all of the new readers we've gained this past season.
So what is Backyard-Hockey.com? To answer that, I'll self-quote from our 'About Us' page:
Our primary mission is to grow the game of hockey by speaking freely of our passion, our experiences, and our love for the game. We eat, sleep, and breathe the game of hockey, and it is our sincere hope that our words will help ignite that passion within you, our readers.
What does that mean? It means we're going to show up here every so often and talk about hockey. Sometimes we'll talk about pond hockey, which is among the purist hockey activities one can partake in. To skate amongst the trees and shoreline, under the stars or the winter sun, is a natural caffeine and a great way to recharge one's batteries. Sometimes we'll talk about backyard rinks — those homemade, creatively-built oases of frozen water, where unsure ankles become confident strides, and cold winter Saturdays make way for Stanley Cup presentations. Many of our backyard rink posts are how-to's. We build rinks for other people under the name of our sister company, Elite Backyard Rinks, and we'll take what we learned there and bring it right to you, should you endeavor to try it yourself. And when we're not talking about pond hockey or backyard rinks, we'll share with you the stories, the people, the places, and the products that tie in to this little hockey universe we reside in.
But enough of the intro. Where do you start?
If you're more interested in pond hockey…
…then start out by checking out our comprehensive North American Pond Hockey Tournament Listing. It's the only one of it's kind on the internet, and we're constantly getting updates on current tournaments, adding new ones, and making sure we have the most up-to-date information around. Our goal is to share the awesomeness of hockey with you. One way is to participate or spectate at a tournament, and our listing is a good way to find one nearby. There are even dedicated listings for many provinces and states.
If you're already signed up, check out our Advice For The First Time Pond Hockey Player. We teamed up with our friends at the US Pond Hockey Classic and reached out to dozens of people who had been there and done that, and asked them for one nugget of advice for tournament rookies. It's a must-read.
If you're more interested in backyard rinks…
…then settle into a comfy chair and put on your reading glasses. We have a whole bunch of how-to articles, and we're adding more all the time. Rinkbuilding is not overly difficult, but it can be intimidating, so we do our best to make sure all of our instructional posts are easy to read and simple to follow. You may not need to do each of these things, but if you aspire to build your own rink, you should read these over several times. Each rink design is different, but there are certain steps you must take and rules you should follow.
In order of importance, start reading here:
1 – How To Determine Your Yard's Slope
2 – How To Build A 24′x40′ Backyard Rink For Under $250
3 – How To Figure Out How Much Water You'll Need
4 – How To Drain, Dismantle, and Store Your Backyard Rink
Once you have those basics down, now you can take a look at some tools of the trade:
5 – How to build a Homeboni (aka Rink Rake, Home Zamboni)
6 – How To Make A PVC Skating Aid
7 – How to Build an Official US Pond Hockey Championships Goal
Finally, when your eyes are bloodshot and your wife starts questioning your sanity (which is when you know it's time to start building, by the way), check out our Backyard Rinkbuilder's Commandments. We wrote it for fun, but we also wrote it because it helps define the unwritten rules we all live by. If it snows, you shovel. Use snowbanks as a beer cooler. Things like that. And if you think of something we missed, add it to the comments. It'll be your contribution to the community.
If you just want to read about hockey…
…we do a little of that, too. Here's a story about Marc Savard we wrote a couple years ago that was featured on Yahoo's Puck Daddy blog. Here's the story about how I came to own real hockey boards, to my wife's chagrin. Our buddy Steve Chernoski produced a wonderful documentary called 'Hockey In The USA', which could only be seen here. It's a must-watch. And if you have kids, particularly hockey-crazed kids, check out some of the things you can do to make their bedroom the best one on the block.
If you think you might still be lost…
…then join the Backyard-Hockey.com Forums and let us help you find your way! The Forums are a budding community of hockey-obsessed moms and dads who have spent altogether WAY too much time outdoors, all in the name of prepping some ice for their little Gretzkys (or, sometimes, for themselves — nothing wrong with that). But we're all passionate about what we do and the memories we're creating. Most of all, we're super-friendly. You won't find any egos or attitudes there, just helpful advice.
And if all of this sounds great…
…then follow us on Twitter and Facebook so you don't miss anything else. On Twitter, I mostly make snide remarks about the Canucks and Canadiens (we're Bruins fans, first and foremost), but I also tweet site updates, new posts, and interesting stories. On Facebook, we'll share stories from some of our friends, ask questions to spur dialog, and try to engage our readers and steal their attention away from normal life for a while. The Backyard-Hockey.com life is much more interesting anyways.
Every so often we'll run contests on our social networks, and since my wife is getting a little annoyed with the "site schwag" pile in the dining room, we may have one soon. So make sure you follow us so you don't miss out.
—-
So thanks for visiting, and I hope this helped direct you to the part of the site that suits you best. I started this site to share rink pictures with family, and it's grown larger than I ever imagined it would. Each visitor, each reader, each follower on Twitter and Facebook, and each member of the Forums is one piece of a larger community, one we're passionate about serving. To that end, should you be looking for something outdoor hockey related and having trouble finding it here, send us an email. We work for you, so let us know what you want.
And above all, happy skating!
Want to learn more about our company, Elite Backyard Rinks? Start by checking out our website, http://www.eliterinks.com. We also have an EBR Facebook page, as well as a periodic newsletter that brings backyard rink tips, tricks, and deals right to your inbox. Don't miss out, sign up here. We had to turn people away last year, so if you're interested in having us build a rink for you, let us know right away!