Google "Marc Savard" right this second and you're bound to come up with a bunch of news stories that speak of 'Bite-Gate', or the non-story told by Flyers pest Dan Carcillo that claims that the Bruins' forward bit his finger in a scrum.  Search a bit more and you might find that Savard has been called selfish or lazy, accused of padding his stats in games that have long been decided.  He even routinely makes the list when NHL players are polled about who the biggest complainers in the league are.
But I urge you to take a step back and recalibrate your opinion of one Mr. Marc Savard.  Let's start with this picture: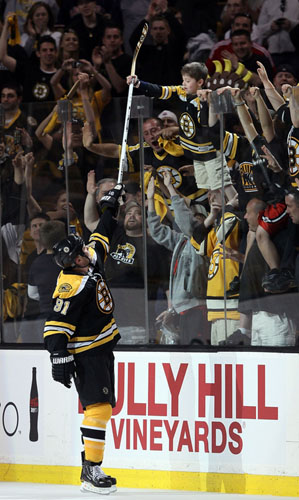 That, readers, is Marc Savard handing a stick to a young fan.  This picture was taken last Saturday, minutes after he scored the game-winning overtime goal to defeat the Philadelphia Flyers in Game 1 of the Eastern Conference Semifinals.  Seconds after the goal, a jubilant Savard raced towards the boards, flung his stick into the stands haphazardly, and jumped up on the glass before being mobbed by his teammates.  After being called out as one of the game's three stars, and armed with a second stick, he skated to the boards and made sure this stick landed right where he intended.  The image above is the result.
As a sports cynic, I'm impressed.  As a memorabilia junkie, I'm jealous.  But as a father, and as a witness to such acts like this from Savard before, I'm not surprised.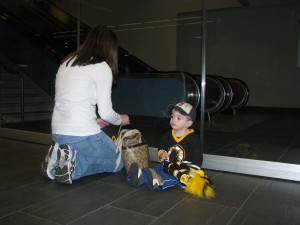 It was December 14, 2008 when I first bore witness to the real Marc Savard.  The B's were coming off a stellar stretch of hockey that would define their regular season, beating Atlanta in their building on Friday night, then returning to Boston to beat them again on Saturday.  I half-expected the Bruins' management, who saw their team go 8-2 to that point in December, to cancel the season ticket holders' open practice that was scheduled for that Sunday.  After all, with two games in two nights, and travel wedged in between, the players were deserving of some time off.  But they didn't cancel.  So shortly before lunch that Sunday, we made our way to the TD Garden.
Dressed in his size 2T Bruins jersey, my son was excited.  Having played hockey for 25 years but having never witnessed a professional practice in person, his dad was too.  Whether it's an NHL team or the Cirque du Soleil or the Boston Pops, it is always fascinating to watch experts hone their craft, particularly when the subjects in question are considered the best in the world at what they do.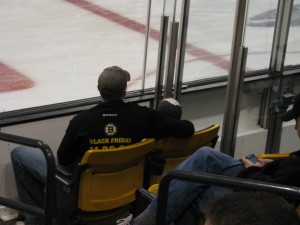 When the doors opened and the escalators whirred to life, we made our way to ice level and grabbed three seats right on the glass, adjacent to one of the penalty boxes.  The players, to their credit, seemed not to mind the little dog-and-pony show that professional athletes sometimes have to endure (think of the fashion show scene in Slapshot, without the indecent exposure).  They walked out to the ice, stretched, and went through their practice paces much like they do every day.  Hockey is, after all, their job.  And while a few of them nodded to the loyal fans in attendance at the start of the practice, only one seemed to truly embrace the idea: number 91.
From the moment he stepped on the ice, he made it clear that he was there to entertain.  He seemed to understand that he was more than just a hockey player, and that his actions that day would create memories that would outlast his career.  Instead of pretending that the fans weren't there, like some of his uneasy teammates did, Savvy engaged the fans at every opportunity.  Tapping on the glass in the corners.  Flipping pucks and tossing shirts to kids near the bench.  Getting on the microphone to thank the fans for their support.  And then, as he neared the blue line for a drill, he did something that my son, my wife, and I talk about to this day: taking one step into the penalty box we were sitting next to, he poked his head around the door, looked directly at my son, and said "Hey buddy!"  Savard himself probably forgot about the incident five seconds after it happened; after all, it took one second of his time and did not involve significant effort on his part.  My wife, on the other hand, became a Marc Savard fan for life.  And my son, whose Bruins fanaticism has already reached a level to where he has an imaginary brother named 'Michael Ryder' and claims to eat lunch with Milan Lucic at daycare, was thrilled.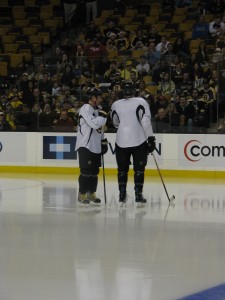 I'm by no means a professional athlete fanboy, and perhaps I've grown soft as a result of fatherhood.  And let's be honest, it's not like he showed up unannounced at my son's birthday party.  But all things considered, I was impressed.  He didn't have to do it; the fact that he was the only one on the ice who seemed to be interacting with the fans speaks to that.  But he did it anyways.  He went out of his way to address my son, my universe, the sole reason why I got Bruins season tickets in the first place, and said "Hey."  He understood his role as not only a center for the Boston Bruins, but as an ambassador for the game, a representative of the organization, and a role model to the kids who look up to him.
It's impossible to overstate how important things like this are to children.  I've been a hockey fan since birth, and my experiences in similar situations live with me to this day.  As an 8-year-old, I stood in line for two hours at a local bank, waiting for an autograph from the legendary Bobby Orr as part of the bank's grand opening.  When I finally got my turn in front of #4, he completely ignored me, blindly signing a stock photo while speaking instead to an adult next to him.  I'll always applaud what he did for the Bruins and the game of hockey, but to this day, I wish I had never stood in that line.
There was the visit to Snively Arena, former home of the University of New Hampshire Wildcats, when I was 10.  The son of my father's boss played defense for UNH, and after a home game, he invited me down to the locker room and handed me a brand new stick, which he had autographed.  He eventually transferred to a SUNY school, and the last I heard, he was in real estate out in Colorado, his playing days far behind him.  But despite that fact, his stick still sits right next to the Adam Oates autographed Sher-Wood and 1980's New York Islanders signed Victoriaville in my collection.  These days, the stick itself is worth no more than the cost of the materials.  But I'll never forget driving home from the game, holding it across my lap in the backseat, tickled to death that he had signed it just for me.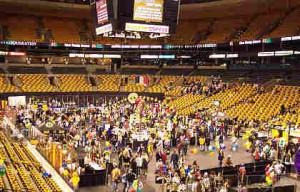 In high school, I went with some friends to the annual Bruins Wives' Carnival, a charity event where patrons are asked to donate money to charity for the right to shoot a tennis ball on a Bruins' goalie or play video games with the club's enforcer.  I still remember Hal Gill, with his eye freshly blackened from a fight the night before, calling my father on the phone and having a two minute conversation with him that sounded more like two friends getting reacquainted than a forced stunt crafted by the organization.  One of the cooler ten dollars I've ever spent.  Gill understood his role in the community, and I'll always remember that.  On the flip side at the same event was Nick Boynton, who, tasked with playing table hockey with young Bruins' fans, appeared disinterested, bored, and borderline rude.  Boynton has since bounced around the NHL, and even spent some time in the AHL.  After seeing his childish behavior amongst actual children, I'm not sad to see his career floundering.
Perhaps none of this is fair.  It can be argued that hockey players should just be hockey players, and that they should be allowed to have bad days just like the rest of us.  To a certain degree, I understand this.  But it must also be understood that when these players sign their names on the dotted lines of monstrous contracts, they're not only promising to be loyal to the club, but also to the fans, the very people whose ticket purchases fund those contracts.  And though everyone is entitled to be in a bad mood on any given day, only some players seem to realize that every single interaction they have with their fans is magnified tenfold and remembered forever.  Nick Boynton may be the nicest guy on the planet, but in the five minutes I spent in his presence, he was unlikable and disingenuous.  I'm sure the hundreds of young kids who paid to hang out with him that day came away with similar sentiments.
All of this is to say that what Marc Savard did that Sunday afternoon was equal parts refreshing and unforgettable.  Somewhere in Bruins Nation, the young boy in the picture above feels the same way.  Savard didn't have to seek out a child in the raucous postgame crowd and hand him that stick, but he did.  And in the process, he created a memory that will live with that boy for the rest of his life.
Who knows, maybe when that young boy is a father himself, and he's and packing up his belongings to move to a new house, he'll look at that stick and wonder if he should go through the trouble of moving it with the rest of his stuff.  And he'll remember standing on his father's shoulders at that Bruins playoff game so many years ago, taking the stick from a player who found him in the madness and handed it directly to him, and remember the rush of adrenaline and excitement that accompanied the moment.  And then he'll toss it into the back of the U-Haul.