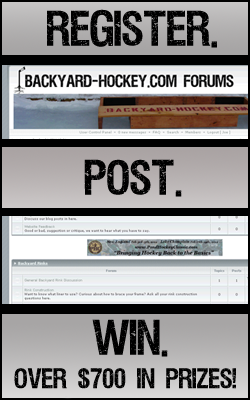 One of the great things about this pond hockey and backyard rink culture is that it allows us to spend time with the important people in our lives. Whether it's friends, family, or the guys from Sunday night pickup, tooling around under the open sky allows us to see each other in a way you really can't behind wire cages, from the stands, or in pressure-packed games. Outdoor hockey is the relaxed cousin of the indoor game, a stress-free oasis in a desert of indoor whistles and fluorescent lighting.
Until now, experiencing this culture was limited to small pockets of people — those at pond hockey tournaments, in backyard rinks, at pickup games on the lake. Until now, there was no central place for people to go to talk about rinks, about playing under the clouds, about how to dangle in the snow. Until now.
I am excited to announce the official launch of the Backyard-Hockey.com Forums. The Forums, a long work in progress finally ready for daylight, have been built to allow conversation and community to develop online as it does rinkside. There are forums for backyard rinkbuilders, wondering about how to build and curious about liner material, and forums for pond hockey players, looking for an extra player or wondering what to wear when it's ten below. There is a classifieds section for those of us wanting to unload used gear or rink parts. And hopefully, in time, there will exist a centralized community of like-minded people, people who love nothing more than frozen nose hairs and the satisfying plunk of pucks in a wooden pond hockey goal.
To celebrate the launch, we've taken delivery of dozens of prizes from our very generous friends at the New England and Lake Champlain Pond Hockey Classics, the US Pond Hockey Championships, and Northland Films (creators of Pond Hockey, Forgotten Miracle, and Ben & Lucy Play Pond Hockey). Everyone who registers in the month of December and posts in the forums by December 31st will be eligible to receive one of these prizes:
One of ten 2011 USPHC Commemorative Prints ($60 value each)
One of five Pond Hockey Classic winter player toques ($15 value each)
One of five Pond Hockey Classic drawstring backpacks
A Pond Hockey DVD ($18 value)
A Forgotten Miracle DVD ($19 value)
A copy of Ben & Lucy Play Pond Hockey ($16 value)
Elite Backyard Rinks tees and long-sleeve tees ($18 value)
Dozens of PHC event posters and stickers
And more…
All you need to do is go to http://www.backyard-hockey.com/forums, sign up as a new user, then once you've completed the registration process, post at least once by December 31st. We'll draw the winners randomly in early January and post the winners on the blog and in the forums.
Starting a community from scratch is difficult. Then again, so is waking up at 6am to play a 7am pond hockey game, or trudging out in the snow after the kids are asleep to lay down a new surface. All that to say that the community we're a part of is dedicated, tight-knit, and passionate. So please, sign up, post a question or your introduction, and help get the ball rolling. If you know someone who would appreciate this, share it with them. The community will be as good as the sum of its parts, and we look forward to growing the Forums into a thriving hub of outdoor hockey conversation.
Consider the puck dropped.