It has been said, likely by yours truly during a recent 3am twin feeding, that parenthood is one of the most difficult, most exhausting, most rewarding pursuits we can undertake. The difficulties are easy to identify and are everywhere you look — they manifest themselves on formula-stained suit jackets in line at Dunkin Donuts and on red-faced parents standing over hysterical toddlers in the frozen food aisle. Parenthood is directly responsible for curbside takeout, in-car DVD players, and, I'm sure of it, alcohol. Ask anyone who's ever done BOS > LAX with children (or seated near children): raising them is hard.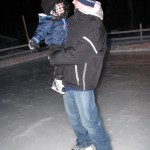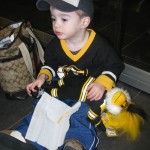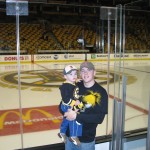 The rewards for parenting, however, aren't so universally visible, nor are they consistent from one family to the next. I worked with a guy who once said "I have no idea why anyone would ever want kids." It sounds harsh, but you can't really blame him. My coworker wasn't in my living room the first time my then-18-month-old said "Red Sah" when I asked him what his favorite baseball team was, and he's probably hungover at 7am on weekend mornings when, clad in street hockey goalie gear that would fit someone twice his age, my son is "Timmy Thomas", fielding shots from "Big Z" in front of the fireplace. You see, the rewards that come along with raising your own little fire-breathing monsters tend to pop up when you least expect them and take place during intimate moments hidden from outsider eyes — but it's these moments that allow you to forget about the formula stain on your Brooks Brothers' lapel.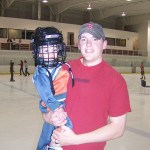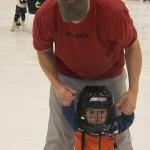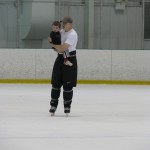 When it comes to dads, particularly dads whose lives once revolved around sport, there is often a special bond between the generations, one that can start at a very early age. If done correctly, there is no "pushing" of a child into a particular sport or towards a particular team. Rather, there is an "introduction", an opportunity for father and child to share what is important to the elder, in the hopes that the younger develops a similar affinity. There are baby outfits from the local team, pacifiers bearing their logo, late-night conversations with wide-eyed newborns about umbrella power-plays and the benefits of wooden sticks. With mobility and increased dexterity comes early play, swatting at baseball tees and plastic pucks. Nervous dads watch intently: "Honey, did you see his slap shot? He totally just lifted it." The child beams. The wonderful voyage of a child sharing sports with his or her dad has begun.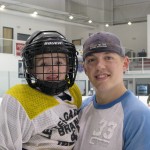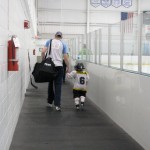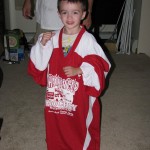 These days, sports are everywhere in our house. Despite two-month-old twins laying claim to some serious plots of interior real estate, hockey gear, sports toys, and balls and pucks of all shapes and colors litter our house, the not-so-subtle reminder of the sports-crazed toddler we find ourselves parenting. As a dad, I could not love it any more. Hockey is 'numéro un' in these parts, obviously, and the local team's late summer run towards the Cup has provided an extra burst of hockey fever: just about every other morning, having gone to bed the prior night before any puck had dropped, I'm greeted by wide, beautiful eyes, limitless energy, and two questions:
"Did the Bruins win? Can we watch the highlights?"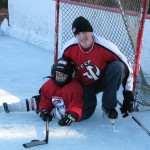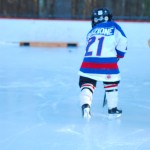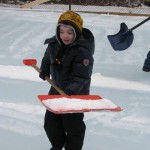 And so I share the news, good or bad, and depending on the carnage (or lack thereof) from the night before, click over to NHL.com for the video proof. Nestled in my lap, the owner of those beautiful eyes stares intently at breakout passes and hip checks, at glove saves and one-timers. To him, hockey is a fun sport, the Bruins a good team, Tim Thomas a local hero. For me, those ten minutes are one of a million parts of a greater personal evolution, one that sees me inching ever closer to fatherhood, one that sees me leaving my childhood behind. At 31, I'm old enough to be considered "old" by high school kids worldwide. But I'm still young enough to remember being that boy doing these things with my dad, and I'm hyper-aware of the metamorphosis taking place within. And I'm loving every second of it.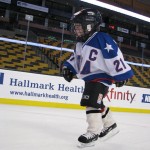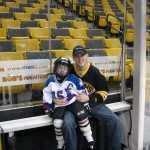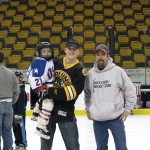 As a lifelong fan of the Boston Bruins, their run to the Cup Finals these last two months has been special. Our twins entered the world the afternoon of Game 1 against the Canadiens on April 14th. They were 13 days old when, holding my daughter in my left hand and the remote in my right, Nathan Horton ripped one past Carey Price to win the series. I spent a large majority of Game 7 of the Eastern Conference Finals against the Lightning holding our newborn son, trying in vain to shush him to sleep as I bounced around the living room, too anxious to sit. And both twins have enjoyed (gentle) celebratory dances with dad in the bedroom whenever the Bruins beat Roberto Luongo these past two weeks. Did you think Daniel and Henrik were the only twins involved in these Finals?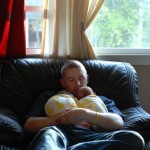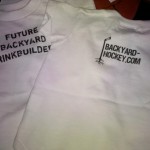 There was a time when I'd head out to a sports bar or a friend's house to watch the playoffs. I'd have a few beers, bust some chops, watch the game, and head home. This year, during a B's game, you'll find me clad in sweats and folding laundry or feeding one of the babies. It's a new world, this parenting thing. And while there is no Cup waiting for me at the endgame, there are a million tiny rewards along the way.
—–
In the future, there might be travel tournaments, state finals, all-star teams. Or there might not. Right now, it doesn't really matter. These days I'm enjoying the living room shootouts, early morning highlight reels, the curled-up babies on my chest during OT thrillers, and boundless enthusiasm for the game I love from the people I love most.
And that makes for one hell of a Father's Day.