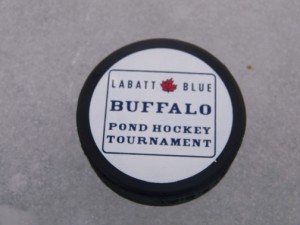 Pond hockey, and the tournaments that showcase it, can provide us with lots of things: memories, bruises, and hangovers come to mind. But until now, financial gain was never really associated with outdoor hockey events. Labatt Blue and the Western New York Ford dealerships are trying to change that.
The duo announced yesterday the details of a new contest that will take place at next month's 4th Annual Labatt Blue Buffalo Pond Hockey Tournament. From now until January 31st, folks in the greater Buffalo area are encouraged to submit an entry at any number of locations: Ford dealerships, Consumers Beverage locations, and supermarkets. On February 11th, ten names will be drawn. Those ten people will then have a chance to win a 2011 Ford Explorer Limited. The odds of being chosen as one of the ten finalists are slim enough — but being chosen as a finalist is the easy part.
The ten finalists will be invited to the Erie Basin Marina on February 12th to attempt the 2011 Ford Explorer Hockey Shootout. If you've ever been to a professional hockey game and stayed in your seats during intermission, you know what's coming next: a 100-foot shot into an impossibly-small hole in a piece of plywood. The wrinkle? It's on pond ice.
Now let's not discount the awesomeness of all of this. Five years ago, there were only a handful of pond hockey events, and sites like the one you're reading right now didn't even exist. Pond hockey was a hobby and nothing more. Now, in 2011, we have corporate-sponsored pond hockey tournaments with hundreds of teams, thousands of players, and car dealerships giving away SUVs. The growth is wonderful, and the exposure given to the event by major corporate players only helps that expansion.
But let's be honest: there are NHLers who couldn't hit this shot with 100 pucks.
The fine print reads as follows:
Each Finalist will have one (1) opportunity to shoot a puck from 100 feet through a 4" wide x 1.25" high target. The entire puck must go through the hole.  Finalists must use a stick provided by Sponsor.  Finalists will not be allowed any practice shots.
In case you didn't have the dimensions of  a regulation hockey puck committed to memory, here they are: 3″ in diameter, 1″ thick. That means your shot must travel 100 feet across the ice and slip into a hole with a mere 0.5″ to spare on each side and 0.25″ above. The odds are staggering.
We have a local AHL team here who used to do this same promotion. They'd get Jimmy from Nashua out onto the ice between the first and second, hand him a Sher-Wood, and give him a shot at a new set of wheels. He'd acknowledge the crowd, step up to the puck, and wing one into the corner. More often than not, these intermission shots resulted in an icing call and and a groan from the crowd. Some came VERY close — one of them was my high school hockey coach, who rung a laser off the inside of the opening before the puck popped back out into the crease. But nobody ever won. They'd drive the car out onto the ice, then drive it right back in.
But here's the thing about these contests: every so often, the unexpected happens. Like these two NBA fans who sunk back-to-back half-court shots to win airline tickets. Or this guy who won a million dollars at a Canucks game in 2008. Heck, even this woman who actually won the very contest we're talking about (and $20k for her troubles). The odds weren't great for any of these people — but it didn't matter. Ten people will get one shot each in Buffalo next month. But when it comes to contests like this, sometimes all it takes is one shot.
So if you're from NY or PA, you're over the age of 21, you satisfy the rest of the contest rules, and you want a chance at a 2011 Ford Explorer Limited, head over to one of the participating entry sites or visit wnyford.com. It's not likely that you'll be selected as one of the ten finalists, and it's really not likely you'll drive away in the new car. The odds have to be one in more than a million. But there is a chance. Perhaps Lloyd Christmas said it best:
For the full list of entry locations and more detailed rules, see this press release or visit WNYFord.com. Thanks to Labatt's and Strategic Agency for the assist.