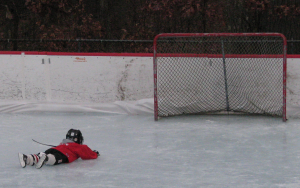 With the year's first two events in the books, it is now officially pond hockey tournament season. The next eight weeks will see people flock to places like Lake Memphremagog and the Rideau Canal Skateway to play hockey, partake in adult refreshments, and enjoy the camaraderie that is woven into the fabric of the world's greatest game. If you visit one of these events, whether it be as a player or fan, we'd love to hear from you.
Here is this week's Puckdrop:
Nobody will ever discount the impact Fred Haberman had on the sport of pond hockey. Haberman, the creator of the US Pond Hockey Championships in Minnesota, is a pond hockey pioneer whose idea and subsequent execution lead the hockey community back outdoors. Haberman deserves just as much credit for the surge in pond popularity as anyone else. That said, when the USPHC was sold to Carson Kipfer, Justin Kaufenberg, and team at TST Media this past year, the event gained a technological advantage that few other tournaments share — and the TST/USPHC team is taking advantage. The latest example? Something they call Nokomis Live, a section of their website that offers daily images and updates as they prepare for the 2011 tournament in less than two weeks. If you're curious about what it takes to run one of the largest and most prestigious pond hockey tournaments in the world, make Nokomis Live one of your daily stops. Oh, and if you're on Twitter, be sure to keep an eye on the #USPHC hashtag, the official hashtag of the US Pond Hockey Championships.
While the New England Pond Hockey Classic in Meredith, NH, is sold out, there are still spots available for the first annual Lake Champlain Pond Hockey Classic. This is the first PHC event in Vermont, and if you're thinking of waiting until next year to enter, don't. Teams that play this year will be given priority for next year, and if the NEPHC is any indication, teams don't give up those spots. So get in now while you still can! Registration information can be found here.
Here are the tournaments taking place this coming weekend (January 14, 15, 16, 2011): the Western Cup of Pond Hockey (BC), the Traverse City Outdoor Hockey Classic (MI), the Northern Regional Pond Hockey Championships (BC), the Michigan Pond Hockey Classic (MI), the Southern Minnesota Pond Hockey Championship (MN), the Stinkysocks Quebec Winter Classic (QC), Camp Evergreen's Pond Hockey Tournament (AB), the Lake-In-The-Hills Pond Hockey Tournament (IL), the Creede Golden Pick Tommyknocker Pond Hockey Tournament (CO), the Rocky Mountain Pond Hockey Championships Youth Division (CO), and the Idaho Pond Hockey Classic (ID). See all the details on our comprehensive tournament listing page.
While Michigan hosted Michigan State at Michigan Stadium nearly a month ago, it took until this past Friday to tally up the official attendance. Despite Michigan's assertion that 113,411 fans crammed the Big House, the Guinness Book of World Records put the officially tally at 104,073. The previous world record was 77,803, set at last year's IIHF World Championships in Germany. (Stick tap to AnnArbor.com for the specifics.)
Having trouble getting your little pee-wee to eat his breakfast in the morning? There's a goalie in Buffalo who might be able to help. Sabre netminder and Team USA medalist Ryan Miller has introduced a new breakfast cereal called Kick Save Crunch, a "honey nut toasted oat cereal that comes in a limited edition collector's box." A portion of the proceeds will benefit The Steadfast Foundation, a non-profit that Miller created to help young cancer victims and their families. Â The cereal is available at Buffalo-area stores as well as online at plbsports.com. (Thanks to USA Hockey Magazine for the heads up.)
Looking for a unique hockey gift idea, or just need to convince your hockey-loving child to keep his or her hat on? Check out this neat hockey stick hat from mykidsquarters.com. My mom bought the black and gold version for my son, and it hasn't left his head since. They have a number of color combinations, and while they are proudly made in Canada, they will ship to the US.
If you missed it last week, please take a moment to read about the Backyard Hockey Equipment Drive. Many of us take for granted the close relationship we share with the game of hockey. But there are many children (and adults) whose financial situation prohibits them from ever stepping foot on the ice. Restore Hockey's mission is to equip those folks with pre-owned, sanitized hockey gear, and we're teaming up with Alex at Backyard Ice to help further that mission. So please, read up and help out if you can.
Finally, one last mention of the plagiarism story regarding the Union Leader. On Friday afternoon I received an email from the writer who copied from this website for his newspaper story. He apologized, saying he was wrong. He was indeed let go by the UL, though he harbors no hard feelings and even offered to contribute some photography from the pond hockey events he's covered. I appreciate both the apology and the gesture, as well as the hundreds of comments, tweets, emails, and facebook messages I've received over the past week. With that, we'll consider this story a distant memory.
Coming up this week: more reader photos, some advice for pond hockey tournament rookies, and more!