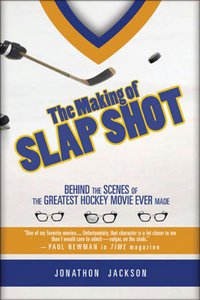 I have a little exercise for you. The next time you're in a hockey locker room — high school, bantams, beer league, doesn't matter — just listen to the conversation. You'll hear guys chatting about their wives or girlfriends, talking about their kids, joking about their work, their classes, that bachelor party in Vegas. A half dozen conversations zig-zagging across the room, the buzzing banter merging with the stretch of hockey tape and the snapping of helmet straps to create the locker room ambiance.
Then, as if prompted by a script, you'll hear it:
"Hagainst da rules! You know, you're shtupid when you do dat. Just some English pig with no brains, you know."
It might not be that exact quote. It might be any of the hundreds of others, all ingrained in hockey players' subconscious next to breakout routes and power play positioning. That's because Slap Shot, with all its crass dialog, crude humor, and gory violence, permeates the game of hockey like no other movie has ever managed to. So it is no wonder that more than 30 years removed from its release date in 1977, the movie enjoys a following as big as ever. The Hanson Brothers, that being Jeff Carlson, Steve Carlson, and Dave Hanson, continue to entertain fans at arenas around the world. Player/Coach Reg Dunlop remains an unattainable figurehead for beer league captains in town rinks from coast to coast. And the Charlestown Chiefs, the hard-luck Federal League squad depicted in the film, are still the team that everyone roots for, regardless of where you grew up.
The story of the Chiefs in the film has been memorized by generations. The stories behind the film are not as well known. Enter Jonathon Jackson, a writer from Owen Sound, Ontario. Jackson is the man behind The Making of Slap Shot: Behind the Scenes of the Greatest Hockey Movie Ever Made, a collection of first-hand anecdotes and stories that recount what went on behind the Slap Shot cameras. We had a chance to speak with Jonathon last week about the book, the movie, and those omnipresent Slap Shot quotes. Here's what he had to say.

Backyard-Hockey.com: The movie is over 30 years old. Why write a book about Slap Shot now?
Jonathon Jackson: I'm a journalist and at the time I got the idea to write a book about Slap Shot, I was a newspaper reporter. I initially wanted to write a newspaper or magazine article about a cast reunion after learning that several people were getting together for charity events like golf tournaments. It became clear very quickly that I would have far too much material for just an article. Not only was I not willing to cut stuff out, I realized I could easily build on what I was getting.
B-H.com: While you were writing the book, did you come across any stories that shocked you?
JJ: I was surprised by many stories, such as the revelation that Al Pacino very much wanted to play the role of Reggie Dunlop. The list of later-to-be-famous actors who wanted to be part of Slap Shot is quite astonishing, and I detail a number of these people in the book. Another surprising story is finding out that Reggie was not, contrary to popular belief, inspired by or based on John Brophy.
B-H.com: The actors who played the Hanson Brothers are relatively well-known, still appearing in character at events around the world. Is there one thing that we might not know about the actors or characters that you discovered?
JJ: There are probably quite a few things that are not known to many fans. We all know the Hansons were based on the Carlson brothers, Jeff, Jack and Steve, and that Jeff and Steve basically played themselves in the movie. But there is actually a fourth Carlson brother. Like the Sutters of Alberta, the oldest Carlson brother (his name is Mike) is said to have been the best player in the family, but he never played professionally. He quit the game in high school.
B-H.com: Reggie Dunlop remains a hockey legend, thanks to a masterful performance by Paul Newman. Give us an example of something you learned about Paul during your research.
JJ: Paul always made it clear that Slap Shot was one of his favourite movies. People close to him say it was actually his favourite – not one of. Paul believed that Reggie was closer to his real self than any other character he had ever played. He enjoyed being a regular person as often as he could and, with this film, he got to do exactly that. He got to hang out in Johnstown, PA, play hockey, drink beer, joke around and just be one of the guys. He never had more fun making a movie. In fact, his favourite line that he ever delivered in front of a camera was in this film: "What a f*ckin' nightmare."
B-H.com: The quotes from Slap Shot are as ingrained in hockey culture as tape and laces. What's your favorite line and why?
JJ:I don't know if I have a favourite line – there are just so many classics – but I do have a favourite scene. It's the scene where Reggie confronts Anita McCambridge, the owner of the Chiefs. Reggie goes through so many different emotions in this scene – he's desperate when he goes to her home, hoping to find her husband, who he believes is the owner. He's confused to find that the man he was seeking is dead, and the man's widow owns the team. He gradually becomes more comfortable in her presence, and then he becomes elated by her acknowledgment that, yes, she most likely could sell the team and save their careers. And then she pulls the rug out from underneath him. She has lifted him up, and then she brings him crashing back down to earth. Now he's angry…and then he gets ugly. Paul plays this scene beautifully. I can't think of another actor who would have been half as convincing.
B-H.com: You've tackled Slap Shot with your first book, and done so beautifully. What can we expect next from Jonathon Jackson?
JJ: This is indeed my first book but hopefully not my last! And I do want to stick with sports, at least for the time being. It's said you should write what you know and, well, I know sports!

I'd like to thank Jonathon for taking the time out to answer my questions. Want to get your holiday shopping out of the way today? Go here to buy this book for the hockey fans on your list and instantly become their favorite gift-giver.
Oh but wait! Thanks to the wonderful folks at Wiley Canada, we have a copy of the book to give away to one of our loyal readers. To enter for a chance to win, simply comment on this post with your favorite Slap Shot scene or quote. Comments will be edited to keep this site in the PG-13 range, and make sure to include a valid e-mail address so that we can contact you if you win. We'll pick a random comment from all entries. Deadline is 11:59pm on Friday, November 5th. Good luck!
---
Much thanks to Jonathon Jackson and Wiley Canada for their contributions. Amazon links subject to our
Affiliate Disclosure
. Don't forget that 25% of all affiliate revenue will be donated to
Easter Seals Autism Network
.