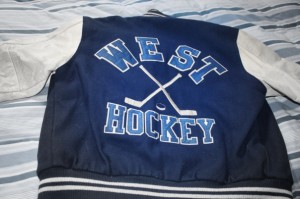 It was probably somewhere around 8pm, after the first of two intra-city hockey games at the JFK Coliseum.  I was clad in my then-awesome varsity jacket, the giant "W" crest and stark-white pleather sleeves overstating my confidence.  One of my good friends, who went to the rival high school we had played that night, had arranged somewhat of a blind double-date.  She was striking.  I was overmatched and out of my league.
"Hi, I'm Joey"
"Hi, I'm Meaghan"
We went to Friendly's, the four of us.  We ordered Fribbles.  We joked around.  Two days later, it was bowling.  A week later, chinese and a movie.  Twelve years later, it was yesterday.
It's funny to keep something of  a rink diary here, talking about ice conditions and fill days and having friends over to skate, but having never reflected on how our journey began twelve years ago.  To be completely honest, I've never really tied it all together, almost taking for granted that the sport that brought me so much in my youth and now my adult life had also facilitated an introduction to someone around whom my life now revolves.  It's entirely appropriate.
Last night, after an unexciting day of football playoffs and pizza shop sub dinners, we took to the rink with RJ, the halogens glowing under a black sky.  As we watched, amazed at how easily he stands up on his own only one week after first learning the skill, and how he can now move 15′ before going down in a heap, I glided over to the proud mom.  "Twelve years ago," I said sentimentally.  "Would you have ever guessed we'd be watching our son skate around, yelling out 'TWO MINUTES, HIGH STICKING!' and laughing?"  She smiled.
I still remember where we first met, standing along the boards on the west end of the arena, right near the hash marks of the faceoff circle, and about 40′ from the twine we dented multiple times that night in a West victory over Trinity.  Haven't been there in years, JFK.  No men's leagues there, and they shut it down for the summer.  Maybe we should go back.  I bet I could find that jacket.
Happy Anniversary babe.  Twelve years later and I'm still out of my league.
~~~
Though I alluded to it earlier, RJ's skating continues to progress.  We had some friends and their kids over on Saturday morning, and spent nearly two hours outside on the rink.  All of the kids are all still learning to skate, and we spent most of the day encouraging and instructing and cheering on the little triumphs.  RJ got up by himself once or twice, just like he did on New Year's Day, but preferred to be helped up most of the morning.  Just one day later, yesterday, he probably got up unassisted 25 times, many on the first try.  On only his fourth time on the ice this winter, he can now fall down, pop right back up on his skates, move 10′, and shoot a puck.  If pride was money, I'd have bought the Bruins last night.  The best part?  The giggles and shrieks of joy as he inched his way around the ice. 
To any parent thinking of creating a backyard rink, stay motivated with this: last night, after I had read RJ a few books and shut the light, I asked him what his favorite part of the weekend was.  He rolled over to face me and said, "When I scored and you all cheered for me."