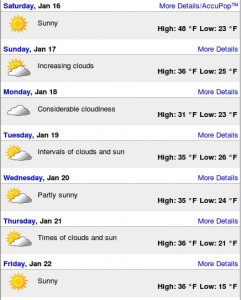 Ah, the January Saturday.  In my short time as a rinkbuilder, I've come to love the January Saturday.  The coffee is always better, the toddler wake up call somewhat welcomed, on a January Saturday.  It is the only day of the week where my waking thoughts don't revolve around work, or money, or life administrivia.    Schedules are intentionally left empty, plans shifted to Sunday or Monday.  You never waste a January Saturday with errands or lunches or haircuts or oil changes.  January Saturdays are too important.
Which is why this January Saturday was such a bummer.
Because despite having almost no precipitation since the New Year's weekend storm that prompted this post, we are currently unable to skate. The catalyst is a rare January heat wave, one that saw southern New Hampshire bathed in 40 and 50 degree temps yesterday and today.  The rink surface is a mix of slush, ice, and water, and the current temp (as I sit here at 9:40pm) of 36 degrees won't make things any better for tomorrow. They're also forecasting snow for tomorrow night into Monday. The sum of all these parts? I'll probably get to work on my slush-shoveling muscles again in the early part of this week, after which I'll hope that Accuweather's 15-day forecast, one that includes 13 days with temps above freezing, is dead wrong.
To those of you who I blindly invited for a weekend skate: my apologies.  I brazenly dared Mother Nature to melt my ice, thinking the night time temps would sustain us.  But she won; she always wins.  Eventually I will learn this.  So while I doubt Robert Burns ever strapped on a pair of Vapors to glide around a Scottish pond, his quote is most appropriate:
The best laid schemes of mice and rinkbuilders; Go often askew.
Or something like that.