It's been a quiet year or so here on the blog after we announced we were writing a backyard rink book. Hopefully that'll pay off soon enough. Just yesterday I received the first version of the book layout in PDF form, and you can see some examples of the layout below. It's one thing to submit a 20,000-word manuscript and upload a bunch of photos to Dropbox, and it's another thing entirely to see someone take that and turn it into something that resembles a book.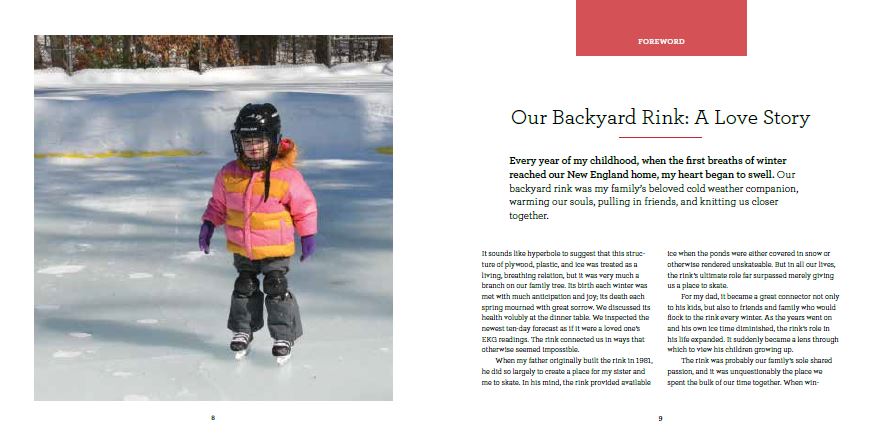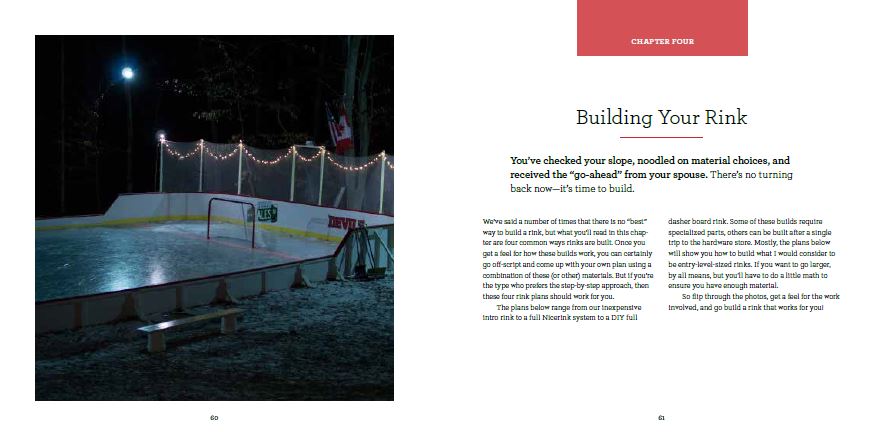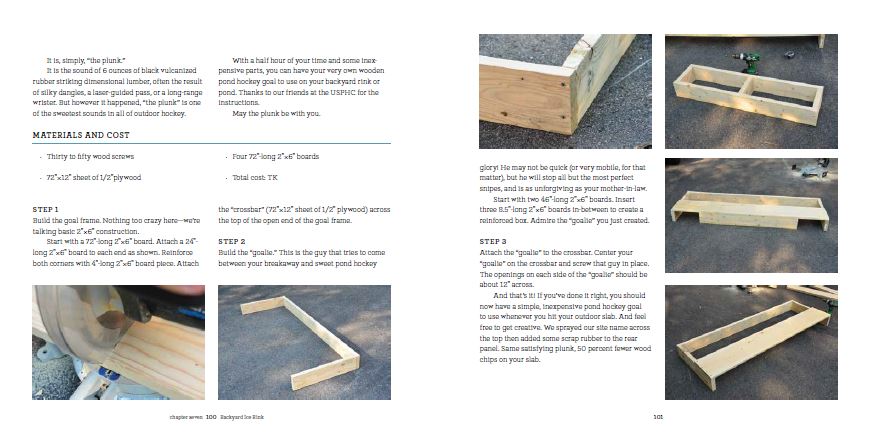 Of course, because this is only the first draft, there's more work to be done, and that's where you come in. To put it very loudly…
WE NEED A TON MORE PHOTOS, AND WE NEED THEM YESTERDAY BY FRIDAY, AUGUST 7TH!
Many of you will be excited to see your photos make the cut, but there were a large number of photos that couldn't be used because (a) the resolution wasn't high enough or (b) the images weren't good enough to be printed in a book. Now we're not looking for Ansel Adams here, but these need to be quality photos suitable for print. In other words, if they're from your cell phone camera, they'll likely be rejected. A filesize of greater than 1mb is a minimum.
What kind of photos? Glad you asked. Here's what we're looking for:
Rink Maintenance photos
Rink Disassembly photos
Rink Building photos
Any photos of kids/adults playing on the rink
We won't be able to print every photo we get, but if you'd like to try getting your rink into our book, here's what you have to do:
1 – Compose an email to joe@backyard-hockey.com.
2 – Put the hashtag #rinkbookparttwo in the subject line.
3 – Paste the following into the body of your email, and fill it out with your information:
Full Name:
Location (City, State, Country):
4 – Add in the following phrase at the bottom of your email:
"I give permission for Joe Proulx, Backyard-Hockey.com, and Countryman Press to use the attached photos in an upcoming backyard rink book. I am the sole owner of the attached photos, and I understand that I am due no compensation for the use of the attached photos." (Sorry, I hate the legal stuff too).
I really hope this book becomes not only a resource for new rinkbuilders, but a celebration of our community, the hard work you've put into your rink, and the memories you've made on them. Stay tuned for more book info as we get closer to the early November launch!