Hey everyone! The kids are out of school and summer is here, which means it's time to grab a beer, sit by the pool, and stare out at your rink site to figure out how you can make it even better next year. Fortunately, our buddy Mike over at Iron Sleek is sharing with us some ideas you might want to think about as you prep for the upcoming season. Lots of great ideas here. Be sure to check out the Iron Sleek site too, as they have added lots of new products (several of which we'll share with you soon)! -Joe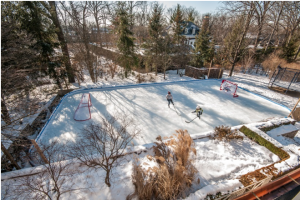 Hey Rinkers!
Although summer is here and flowers are blooming, it's not too soon to start thinking about your rink for the upcoming season. A backyard rink is a progression of small improvements and Spring/Summer is the best time to improve the family rink. Our customer's rink featured in the picture above took a few years of modifications and yard improvements to get to where it is today. Even, after many years of enhancing my own yard, I thought I was finally done for 2014-2015 season. Every year I learn more and every year I realize I AM NOT DONE! My next "rink prep" project is underway. I'm digging a trench to run wires for extra lighting (night vision for me is on the decline)! While doing the dig, I also plan to level the low section of my yard so next season's rink is 5 feet wider. That will give me better ice quality and wider shooting angles so I can score on my much improved little skaters. I can't wait! If you're anything like me, your backyard ice has become a passion and you still reminisce about the awesome-ness ofyour 2013-14 winter rink!
Don't let this season go by without prepping for next winter's rink! When fall comes around, it will be too late. Here are a few things to consider this spring and summer:
Electricity and Lighting
Are you frustrated with your lighting situation? Not enough light, too many extension cords, etc. Consider running power to a convenient spot to service your rink lights. Maybe plant a tree to prop up a light? No tree? No problem! See if the Iron Sleek Post Kit can work for you! We put it on special for you with a free shipping coupon "springfree".
Pitch
Should you improve the grade? Is it just one corner that complicates things? I started with 17 inches of pitch and committed to fixing a corner. Eventually, I had landscapers get the level to 8 inches. Not bad! Are you putting in a pool or doing some other type of construction? If the equipment is already on site, have the excavators fix your rink area (I have a customer doing this exact thing! -JP). We put in a batting cage for our girls and relocated the dirt from the dig to a deep rink corner. Always think "rink"!
Dangerous Tree Branches
Take a look above your rink area. Are there dead tree limbs? I'm serious about this one. We had a customer in Toronto end up with enormous tree limbs in his rink (see the incredible photos on Facebook here!) What a trooper! Bob salvaged the rink and still skated for a month after the disaster. Pretty sure he owes his brother-in-law a cold one! Have those loose limbs cut down now so they don't end up in your rink next season.
The Shed
If you are building a shed, strategically place it so it's convenient to the rink. Could the shed double as a warming hut or hold a fridge for your frosty beverages? How about your resurfacer, shovels, sticks, pucks, and net?
Maintenance
It's unavoidable…you must resurface your rink regularly. Make it easy on yourself! Is your water supply far from the rink? Consider running a spigot closer and with a hot water line. We plumbed our spigot for both hot and cold. It's great for slip and slides in the summer and is ice smoothing in the winter. Want the ultimate slip and slide? Lay down an Iron Sleek liner, add some baby shampoo, and get the camera ready!
Expansion
You want to expand but that would put you on the pavers or on your concrete patio. Don't let that hold you back! The Iron Sleek Hard Court Bracket makes expansion onto hard surface a reality. Need a good reason get rid of that dying tree? Time to cut that tree out of your rink's way? It will also make for great firewood this coming winter!
Hardscaping
Time for some seating benches or a fire pit? Plan these yard features to adapt to the backyard rink. It may not be something you think of in year one, but as you think about making your rink experience better, more seating and a nice warm fire to drink warm up next to is a must!
Relocate your Rink
Did last year's site pose too many challenges? Start planning a new site and keep the key rink elements in mind: size, shade, water availability, power/lights and pitch.
Sports Courts
If you are putting in an outdoor sports court this summer, give us a call and I'll help you figure your rink into the picture. Hard surface or sport court rinks post unique challenges to the rinkbuilders, but Iron Sleek has solutions to help you out!
I hope these pointers stir up your creativity and get you to start planning for the 2014-15 rink. You're a rinker and rinkers always "think rink"!
Look for loyalty discounts and new product releases from Iron Sleek™in the coming months! For now, we have the "springfree" coupon which will get you free shipping on components and we have the lighting kit price slashed.
Sleeker-ly,
Michael Barbanente
Principal at Outdoor Rinks by Iron Sleek
My name is Mike Barbanente. First of all, I am a father of 2 and I have committed myself to help making the little time I have with my kids as incredible and memorable as possible. I have shared my passion of family, sports, and engineering with you through our company, Outdoor Rinks by Iron Sleek. Iron Sleek is a one stop shop for outdoor ice rink hardware, ice rink liners, rink accessories, and we also offer hockey board options. We ship our easy to use Iron Sleek products to 29 States in the US and 8 different provinces in Canada.

Be sure to like us on facebook: https://www.facebook.com/pages/Iron-Sleek/392397737480859

This post contains affiliate links. See Backyard-Hockey.com's Affiliate Link Disclosure here.