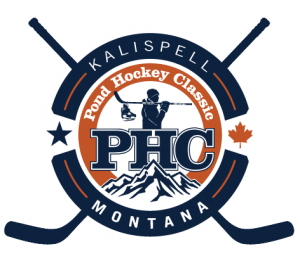 19th century author Horace Greeley once famously said "Go West, young man." It appears Scott Crowder was listening.
Crowder, the mastermind behind both the New England and Lake Champlain Pond Hockey Classics, announced today a third event starting in February 2014. The Montana Pond Hockey Classic will take place on Foys Lake from Friday, February 21 to Sunday, February 23, 2014. The tournament will mimic the ultra-successful tournaments Crowder's team has put on for years on Meredith Bay in New Hampshire and Lake Champlain in Vermont, and the hope is that it will provide significant tourism activity for the small town of Kalispell, Montana. Located just steps from the gates of Glacier National Park, the town of just 20,000 people has welcomed the pond hockey community with open arms.
"We are thrilled to partner with the largest pond hockey promoter in North America and bring hockey back to its roots in one of the most picturesque places in the world," said Rob Brisendine, group sales manager with the Kalispell Convention and Visitors Bureau.
Based on its location (Canada's border is just over an hour away) and climate, organizers hope the tournament will attract players and spectators from both the US and Canada. And while the growth of pond hockey tournaments in recent years has brought events to many cold-weather areas, Montana is comparatively under-served, with only one other small event in 2013. For Crowder, the opportunity was one he couldn't pass up.
"Having the opportunity to partner with the Kalispell Convention and Visitors Bureau to bring a Pond Hockey Classic tournament to Montana is very exciting," said Crowder. "We look forward to bringing outdoor hockey to this beautiful region."
Registration will open by tomorrow, and organizers are urging anyone interested to sign up as soon as they can. Both the New England and Lake Champlain Pond Hockey Classics have sold out in recent years. Having just completed its fourth year, the New England event on Meredith Bay is nearly impossible to get into, with prior-year teams getting first dibs on subsequent year's slots. The best way to avoid being on the outside looking in is to register now for this inaugural event.
For more information and to register, visit www.pondhockeyclassic.com. To keep up with other Pond Hockey Classic announcements, visit their Facebook and Twitter pages.