Each year for the past two, we have partnered with a handful of pond hockey tournaments from all over North America in an attempt to help grow their event, and subsequently, grow the game of pond hockey. In the coming weeks and months, we'll be sharing information on these events with you by way of the "Meet Your Tournament" sponsored series. Please help us raise the stature of our partner tournaments by checking them out on Facebook or Twitter, and if you're local to them, signing up to play or volunteer!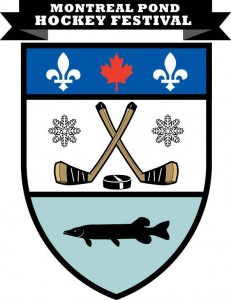 Tournament Name
Montreal Pond Hockey Festival
Location
Lac St-Louis, Montreal, Quebec, Canada
2013 Tournament Dates
February 2-3, 2013
Who's in charge?
The President, Andre Lefebvre, grew up in Quebec City, Toronto and then Montreal. He played for a variety of teams as a youth such as playing Junior BB which ultimately lead him to playing forward and defenseman for Concordia University in the Canadian Interuniversity Sport hockey league (CIS). He has had multiple responsibilities in his children's minor hockey association over the years and continues to be to this day.
Ryan French MacDougall, who takes care of Sales and Marketing, comes from a small town north of Montreal, playing goalie for his local team on the outdoor town rink. Ryan began his indoor hockey career up in Lachute, Quebec (Home of Kevin Lowe), playing peewee and bantam in single letter hockey. In 2001 he moved to Montreal Quebec when he was 14. He would make the Midget BB team for his region and then move on to play a few games in Junior BB until "retiring" from competitive hockey to play in his local Senior A (beer) league. To this day he flabbergasts players with his Marty Brodeur / Tim Thomas style of play.
How did the tournament come to be?
The Montreal Pond Hockey Festival was conceived in one of our favorite local bars while speaking about the growth of Pond Hockey everywhere. WE said to ourselves how could the city of Montreal, one of the most hockey mad cities on this planet, not have its own? This was back in 2009 and the first event was held in 2011. With this Andre started a nonprofit company called Hockey Glacier, whose objective is to bring unique hockey related events to the masses for the pure enjoyment of the game. We also have a few other projects that are currently in the works.
How many teams where there in the first year, and how many are expected in 2013?
In 2011 we had 13 teams and we were very happy to get that type of participation in our first year. In 2012 we jumped up to 43 teams and this year we are expecting 60 teams to come out. We are real excited about the growth we've and ultimately want to offer our participants the best experience possible. We are especially happy with the number of International teams joining our ranks from all over the USA.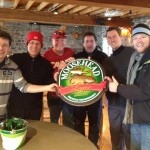 –
–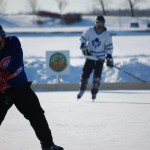 Does the event support any charities?
For the time being we do not officially support any charity as most of the money has been reinvested into the event itself, however we do plan on making a donation to Cancer Research group after this year's event.
Favorite tournament memory?
I think some of the best moments are when the players come up to you and thank you for a great weekend at the end of it all. That's the whole reason we exist, is to share playing the game we love in the great outdoors. However the best moment was during our watering of the rinks last year with our team, having a few cold ones, looking up over the horizon seeing the sun setting between the clouds over the St-Lawrence River and casting that evening glow, you couldn't ask for better.
Sure call me soft if you want, I'd still rob you on the breakaway anytime, but that's what playing outdoor hockey is really all about!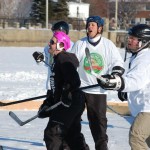 –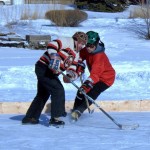 –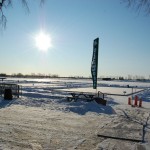 Where do you hope to take your tournament in the future?
We would like to see the continued growth of this event into one of the premier Pond Hockey Destination for hockey players from around the world. We have 8 rinks right now; we would like to double that in the next 2 years. The uniqueness of our event being only 15 minutes from the beautiful downtown core of Montreal makes it a special nature/urban experience for any visiting team.
There are still spots available for this year's tournament, but the deadline is January 18th. To sign up to be a part of this event, head over to their website at http://www.montrealpondhockey.com. You can also keep abreast of any tournament updates and check out pictures from last year's tournament on the event's Facebook page, https://www.facebook.com/TheMontrealPondHockeyFestival?fref=ts.