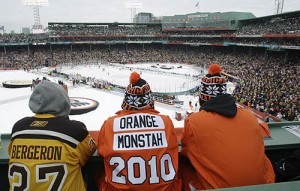 Big thanks to Brian Falla for doing what all great writers do: taking the time to put pen to paper and express what so many of us feel, only in a more eloquent way. Below, Brian questions and then justifies his anger over the ongoing NHL lockout and what finally made him snap: the cancellation of this year's Winter Classic.
Okay, National Hockey League: Cancel a few games at Phoenix, Florida and Columbus if need be, but now that the Winter Classic has reportedly been sacrificed on the altar of collective greed, stupidity and hubris, I'm officially gloves-off, stick-down, you-challenged-the-Chiefs upset.
Naturally, I'm angry because I love the Winter Classic – and I still don't believe it won't be magically resurrected once the league and players strike a deal – but I'm also angry that I care at all.
As a member of the backyard rink community and a lifelong subscriber to the idea that the game is best played outdoors, on frozen ponds and rivers, unstructured – except for the golden rule that the losing teams shovels the ice – I shouldn't really care about a stupid NHL work stoppage. I have better things to do and more tangible tethers to the game. For us backyard"rink"igans, we can make our own hockey snow globe moments and not only enjoy the game in its purest form, but also do so with our most cherished loved ones. What can be better than that? Certainly not watching three hours of the left-wing lock, that much I know.
I should embrace the lockout as an opportunity to get back to the roots of hockey, attend high school and college games; take a Saturday that would have been otherwise burned watching a essentially meaningless NHL matinee, and go take a twirl on the pond. If winter deserts the Northeast again and decides to follow the hoards of NHL players to Europe and Russia for the season, I should take the opportunity to seek out some afternoons of good old fashioned street hockey. After all, I fell in love with the game on its own merits long before I became a devote follower of the NHL.
The lockout should provide me an opportunity to reopen doors to different and, in some ways, better venues of hockey. Living in the Northeast, I have the luxury of being able to satiate my hockey hunger at various American Hockey League venues, which provide wonderful and affordable "family friendly" hockey, provided you can navigate the kids' uncomfortable and soul-searching questions about why the guy in blue just slugged the guy in white and didn't get a "time out". But if I want to avoid the fisticuffs, I can do so at a seemingly endless variety of first-class college hockey venues where some of the best amateur hockey players in the world play in electric venues. And, of course, there are always local youth, high school, prep school and junior hockey options as well. I have plenty of hockey options available. I shouldn't miss the NHL at all, but I do, and now I've got to ask myself all kinds of uncomfortable, introspective questions. Why do I truly care?
After significant soul-searching, I can only conclude that I care because, as my father once wrote, "hockey connects", and the NHL game tethers me to people I love in ways other things can't, or don't. It matters because it was a shared passion between father and son, and the memories make me smile rather than cry. It matters because it was my only connection to a grandfather I otherwise barely knew. When the level of investment goes back generations, you want to cash in on that equity.
It matters because when there's a big win for the home team, the phone will ring and I know who is on the other end. It matters because the Stanley Cup is the greatest trophy in sports and the only one that gets me choked up every time it's awarded to special teams and special players: Wayne Gretzky, Lanny McDonald, Ray Bourque, Dave Andreychuk, Mike Modano, Mark Messier, etc. These are priceless, irreplaceable moments.
Now I'm faced with the gnawing fear that maybe NHL hockey has taken too strong a hold on me, something I go to great lengths to deny but sense might be true. I admit I have a hard time justifying why a Game 7 overtime goal gives me a temporary sense of euphoria that is unmatched, save for the possible exception of the birth of my children. That's just not right; it's embarrassingly stupid and yet it's undeniably true. Just to be clear, the birth of my son, and later my daughter, still hold rank on the Best Lifetime Moments list, but I can't deny there are hockey moments pressing way too deeply into the top 10. It makes me think my priorities need some further seasoning in the minor leagues.
But one thing I do know is that I want my Winter Classic back, and yes, I think a part of it is mine – ours. It's the one game a year that I feel is truly for the fans, for everybody who has frozen their extremities off playing pickup hockey on backyard rinks, ponds, and frozen rivers throughout the hockey world. It's for everybody who has grabbed a shovel to clear the ice between games or after a snow fall. It's for everybody who has known and embraced the excruciating feeling of sticking frozen, numb feet on the radiator to warm them up, which I previously thought was the nearest most of us would ever come to the feeling of being impaled by thousands of needles at once. But now I'm reliving those feelings every time I see Bettman or Fehr's smug looks of defiance, and every time I sadly shake my head wondering how it is that two people who wouldn't skate the Rideau Canal unless it was coated in gold can take away our game.