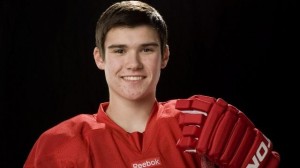 One moment, Jack Jablonski was another 16-year-old high school hockey player enjoying the game in the country's biggest hockey state. He had scored his team's first goal, and at that moment, his career and his life were no different than the thousands of other high schoolers proudly wearing their school's colors on the ice.
In an instant, that all changed.
Jack was hit from behind while heading for the puck and instantly crumpled onto the ice. With no feeling in his arms and legs, he was taken to the Hennepin County Medical Center, where he is currently in the ICU. It is still too early to know the full extent of his injuries, though it is unlikely he'll walk or skate again. Just this morning, family friends updated his Caring Bridge page with news that increased swelling had necessitated the use of a feeding tube.
But as it tends to do in times of crisis, the hockey community has mobilized. Schools in Minnesota and beyond have organized "white outs" at games to show their support. #13 stickers and t-shirts were created almost instantly, with the proceeds going to Jack's family. Twitter was consumed with #jabs hashtags and tweets from NHL stars like Jeremy Roenick, Alex Semin, and others.
Now, several of his classmates have been working to organize a pond hockey event on Lake Minnetonka. The Jack Jablonski Junior Bronze Tournament will be tentatively held on Saturday, January 14th, on the lake's Excelsior Bay. The date is tentative, and full details can be found at the event's Facebook page. The price will be $10 per player, with teams of 6-12 skaters. There will also be a silent auction.
"What we really need right now is donations for the auction," said Mario Zattoni, a friend of Jack's, a fellow Benilde-St. Margaret student, and a co-organizer of the event. "Any items of value are really what we need, whether it would be sports memorabilia, jewelry, gift baskets, or gift cards."
Anyone willing to donate tents, goals, auction items, or anything else is urged to contact them via the event's Facebook page. For those willing to offer the family financial support, they are urged to visit any Wells Fargo bank or send donations to:
Jack Jablonski Fund
P.O. Box 16387
St. Louis Park, MN 55416-2618
Hockey is a dangerous game, and as long as contact is allowed, there will be catastrophic injuries. That said, as someone who has been around the game for nearly three decades, it never gets easier to hear these stories. But in time of need, it's both uplifting and humbling to see the hockey community rally around one of its own. Get well, Jack. Millions of new fans are cheering for you.
To keep up on Jack's status, bookmark both his CaringBridge page and the Support Jack Jablonski Facebook page.