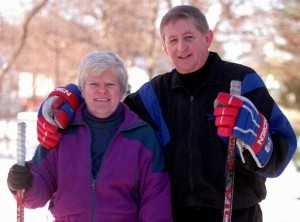 Jack Falla's influence on the backyard rink community, yours truly, and this website is well documented. Thousands of people drag plywood out of the basement or from under the deck and spend a day or two each fall erecting their version of Falla's Bacon Street Omni, the rink he built in Natick for nearly 30 years. It's safe to say that many of these rinks were borne from Jack's contributions to our community.
But his influence is present far beyond our network of fanaticals, and because of this, he is being posthumously inducted into the Massachusetts Hockey Hall of Fame this Wednesday. The ceremony, being held at Lombardo's in Randolph, MA, will honor six men and three women, including Northeastern University coach Fernie Flaman, former Boston Bruin player and executive Mike O'Connell, and a handful of hockey names who helped the game grow in the Commonwealth of Massachusetts.
The press release reads:
Past inductees read like a "who's who" of hockey heroes who over the past 50 years have helped position Massachusetts as the hotbed of hockey in the United States. The list is stock full of Olympic and Paralympic heroes, college and NHL stars, female pioneers, high school and college coaching legends, distinguished referees and media icons, as well as a cadre of dedicated, behind-the-scenes grassroots builders who have tirelessly spent decades furthering the development of the game in Massachusetts.
Jack fits the bill perfectly. The press release calls him a "hockey writer", and his name will fall under the Media wing of the MA HHoF. But it very well could read "legend", "inspiration", "teacher", and "friend to all". To roll up all of Jack Falla's contributions under the word "writer" is to call the Stanley Cup "a trophy".
He was sincere, giving of time and knowledge, funny as hell, and well-respected. Unlike many inductees before him, his impact on the game of hockey is difficult to determine, other than to say it was significant. How many hockey careers began on a backyard rink, built by dads who first read Home Ice? How many weekend car trips to tournaments took place because Jack's passion convinced parents to give the sport a shot? How many sports writers cut their teeth in Jack's classroom, and now help spread the game through newspapers, magazines, or blogs? It's impossible to count.
But what's certain is that Jack very much belongs in the MA Hockey Hall of Fame, amongst names like Craig, Eruzione, Fred Cusick, and Walter Brown. Jack's family will be on hand to take part in the ceremony, and while it will no doubt stir up sadness and heartache, it's fitting that the greatest of all his legacies, the family he left behind, will have a part in the honor.
From all of us — the backyard rinkheads, your former students and coworkers, and the hockey world at large — congratulations, Jack.
To learn more about the event or to get tickets, visit the MA Hockey website at http://www.mahockey.org/halloffame.htm.