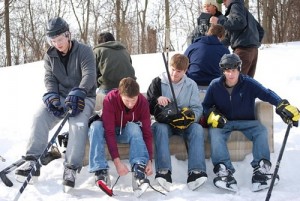 He was sweaty, he was tired, he was a little cold. It was Minnesota in the winter, after all, and he was sitting on a throwaway couch anchored in a foot of snow. He had just finished playing hours of pond hockey with twin brothers Tim and David, and friends Nitin, Shane, and Tim. It was almost time to go home.
Well, there was one thing left to do. Curtis Joseph needed to sign his jock.
—–
A week earlier and 1,000 miles due south, Luke Phillips' phone rang.
It had rang a few days before that too, and Luke tried to remain calm as he explained the idea he had posted on Ford's Facebook page to the Ford employee on the other end of the call. They had asked their Facebook faithful what they would do if given a new Ford Explorer for a week. On a whim, Phillips posted "My brothers and I would go play pond hockey in Minnesota." Somewhere in Dearborn, Michigan, Ford's eyes widened.
Phillips said hello. On the other end of this call was famed surfing film director Thomas Campbell, asking about the Ford thing. Phillips hadn't told anyone about the first call, afraid it would fall through. After all, thousands of ideas had been posted on Ford's page. It's doubtful any others got a call from Thomas Campbell. He peppered Phillips with questions about pond hockey: what is it? how do you play? how is it different than regular hockey?
Satisfied with the answers, Campbell dropped the bomb:
"I think this is going to be amazing. We've found a place to use in Minneapolis, and we're set to begin filming in about a week."
Phillips, seated at his desk in the relative warmth of Dallas SEO firm WrightIMC, immediately cleared his schedule. Finally realizing that it was going to happen, he reached out to his brothers and friends. He did not encounter much resistance.
It's doubtful many of us would.
The shoot was to begin at his family home in St Louis, so Phillips hopped in his car and drove 600 miles the day before the film crew was set to arrive. The night before the shoot, St Louis was hit with five inches of snow, creating the perfect backdrop for a pond hockey movie…and allowing the Missouri natives to cackle over the Mount Everest-inspired gear the California-based film crew was wearing.
After several hours of filming in the St Louis area, the boys, the film crew, and their caravan of Ford Explorers pointed their noses due north and drove. And drove. And drove. The gang eventually bedded down around midnight in Cedar Rapids, Iowa. Four hours later, their journey continued.
Kept awake by the prospect of carefree pond hockey, the boys reached Minnesota by mid-morning. Their "pond" was actually a picturesque backyard rink owned by one "Mr. Mork." The scene is so stunning that it was actually used as the subject for Minnesota-based artist Terrence Fogarty's oil-on-canvas work titled "Mork's Pond."
After donning their gear and taking to the ice, the boys did what boys do: they chirped each other, sent pucks into the woods while trying to roof it, and basically replicated every pond hockey experience anyone has ever had. Once the camera crew had set up their equipment, filming began.
Then, after the tenth scripted faceoff, a stirring in the woods. Through the snow and down the hill lumbered a goalie, clad in full equipment save for a mask. The boys looked around, bewildered. Luke Philips recognized immediately the same face that was taped to his wall for most of his youth.
The face reached the ice and extended a hand.
"Hi…Curtis Joseph. You guys need a goalie?"
CuJo, 19-year NHL veteran and a certifiable legend in Phillips' hometown of St Louis, joined the boys on the ice. What followed was every hockey players' dream: a chance to bury one on a keeper who's made millions trying to stop the best of the best.
As tends to happen when one meets their boyhood idol, Phillips was nervous. Not so much nervous for the meeting itself, but worried that his perception of the player he looked up to as a kid wouldn't hold up after their day together was over. Joseph quickly put that to rest, and after a few minutes of conversation, the shoot continued.
At a lunch break, CuJo munching on his sandwich with the boys in lieu of his heated trailer, the conversation turned towards his goalie equipment, which was noticeably unused. As it turned out, his own personal equipment was delayed in customs the night before the shoot. The crew realized their only course of action was to visit a local hockey shop and purchase brand new goalie gear.
Phillips, sensing an opportunity, casually asked the producer what the plans were for the not-so-cheap last minute items once the shoot was over. Realizing that a surfing filmmaker and future Hall-of-Fame goalie wouldn't have any use for goalie equipment, the producer shrugged. "Do you guys want it?"
The words "Hell yeah!" were never spoken more quickly.
And so as the day wound down — the day that began with an exhausted caravan of Explorers and ended with an exhausted group of elated friends — CuJo doled out the gear. Each of Phillips' crew got a few pieces, Luke himself bringing home the stick, pants, jersey, and undershirt, all signed by Joseph.
And so as the boys gathered up their loot and headed back to the trucks, they noticed a piece of equipment remained: the jock. As a joke, the guys decided that CuJo needed to sign it, and he did. As he handed it to Luke, laughter erupted.
On the cup it read, simply: "You couldn't carry this."
The resulting webisode, for your enjoyment: