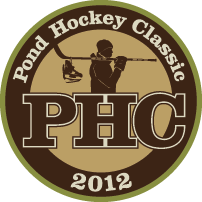 Want in on two of the largest pond hockey tournaments in New England? Better start stretching that mouse finger.
Both the New England Pond Hockey Classic and Lake Champlain Pond Hockey Classic open up registration for new teams at 12pm ET on Thursday, September 1st. Both events held registration for 2011 teams in early August, but tomorrow will mark the first opportunity for new teams to sign up.
"We will have a number of open spots available in each sub-division when registration goes public at noon on Thursday" said Scott Crowder, tournament founder. "These spots are going to go fast for the New England event, we have had teams who have been on the wait list for two years and this is a chance for them to join us during this unforgettable weekend."
If you're one of those teams, you'll need to be quick, with all registrations going through the PHC's SPORT NGIN-fueled website, http://www.pondhockeyclassic.com. To register, you'll need the following information for at least four of your teammates:
Name
Age
Birthdate
Address
Email
Phone Number
In addition, you'll need a Visa, Mastercard, Discover, or Paypal account at the ready. Registrations will be processed on a first-come, first-served basis, and registrations must be completed in full via the website. Costs for the NEPHC are $600 per team, costs for the LCPHC are $500.
I've been a part of the NEPHC for the last two years and can speak to how awesome a weekend it is. And it's not just the on-ice action. The camaraderie off the ice, which tends to inch into the wee hours each night, is more than worth the price of admission.
But you need to register first. So get stretching.