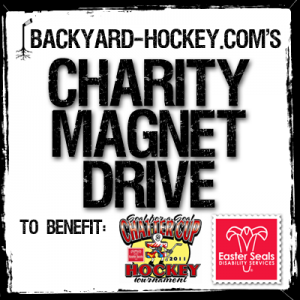 Let me ask you one simple question: how will you spend $3 today?
Will you grab a coffee and donut on the way into the office? Maybe buy a couple songs on Itunes or rent a couple Redbox movies?
What if I told you that you could help change the lives of families facing Autism Spectrum Disorder, all for $3?
Each August, I play in the Chatter Cup, an adult hockey tournament established four years ago to raise money in the fight against Autism. Last year, I wrote about the tournament:
Autism Spectrum Disorder, or ASD, is a complex developmental disability that causes problems with social interaction and communication. The symptoms of each of ASD might include problems in communication, social interactions, and repetitive behaviors, with treatments ranging from behavioral or speech therapy to educational options to medicinal approaches. It is estimated that one in every 110 children is diagnosed with ASD, making it more common than childhood cancer, juvenile diabetes, and pediatric AIDS combined. Easter Seals' Autism Network was formed to help fund many programs that provide children with autism and their families with support, education, and opportunity.

The creators of this great event, both of whom have families affected by ASD, have a shared passion in creating a fun, family-friendly hockey event. They've succeeded in doing that and more.
Last year, I asked my readers for monetary donations, and many readers contributed. But this year, I want to make it even easier.
Today marks the official start of our Charity Magnet Drive to benefit the Easter Seals Autism Network. We're selling our pond hockey magnets for only $3 each, with all proceeds, approximately $2 per magnet, going directly to the charity. We'll be selling them until the end of July, or when supplies run out. Â Our goal is to sell 200 magnets, which would mean a $400 donation to Easter Seals.
For more details on the magnets or to place an order, click here or on the image to the left.
—
Three bucks. It could mean a bagel and coffee, a magazine at the drugstore, or a beer at the bar after work. Or, if you place an order for one of these magnets, it could mean helping families faced with Autism Spectrum Disorder receive the diagnosis, treatment, and research needed to combat this confusing, scary disease.
Three bucks. How will you spend it today?