Take a look at these two images: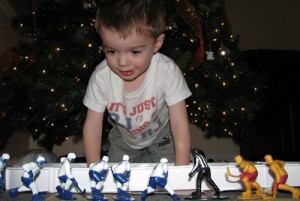 …………….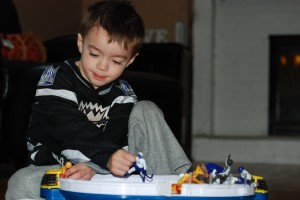 The one on the left was taken on Christmas Day in 2008. The one on the right was taken two years and two months later, on Friday, February 18, 2011.
A lot of things changed between those two shutter clicks. My son was two, now he's four. We used to live in Hooksett, now we're a few towns over. We're potty-trained, and we're expecting a brother and sister in the next two months. We can pronounce Czechoslovakia, though we don't realize that it no longer exists.
The hockey guys have changed too. They used to play on the provided ice surface, now they've upgraded to a smaller, more intimate ice surface (actually just an inexpensive air hockey table — but hey, it has a DOOR). Some of the paint has faded due to use, and we're probably on puck number 11. We've reinforced the troops lost in travel with a second set, and all of the players could use a serious skate sharpening.
But despite all the changes, one thing remains the same: these Guys will go down as my son's favorite childhood toy by a country mile.
This is my review of the Kaskey Kids Hockey Guys.
I believe it was my in-laws who purchased his first set, igniting an instant "why didn't I think of this" reaction in yours truly. The Guys come in a sturdy, reusable box, and the hockey set includes 14 players, a ref, two nets, a puck, an ice surface, and a series of interlocking boards. Curiously, it also comes with a rule booklet. I say curiously because the brilliance in all of this is that there are no rules. Where children are often barraged with "do this" and "don't do that", Kaskey Kids toys allow for 100% imagination and creativity on the part of the participants.
In fact, that's the exact answer my son gave when I asked him why he liked his guys so much:
"Because I love 'em!"
"But why do you love 'em?"
"Because there are no rules in their games. I can do whatever I want."
You can imagine the allure of complete autonomy for an otherwise structured toddler.
So each day when he wakes up, it's off to the (miniature) rink. And as soon as he kicks his boots off after school, it's back to the game. These days it's primarily USA vs USSR, a re-enactment of the scenes from the movie Miracle (right down to the "USA!" team cheer and Al Michaels quotes). In the past, games have included the Bruins, Canadiens, Finland, Sweden, and the Monarchs, our local AHL team. But the living room floor is not the only game site. We routinely toss a handful in a ziplock and bring them to restaurants (using little jellies or napkins as the boards). Sometimes we bring them to grandma's, where they are combined with Baseball Guys, Football Guys, and yes, even Disney princesses, watching from the stands.
That reminds me – Kaskey Kids doesn't just offer Hockey Guys. They also sell Football Guys, Baseball Guys, Soccer Guys, and Soccer Girls. If you or your child is a college football fan, they also offer official NCAA-sanctioned Football Guys for nearly a dozen Division 1 schools. There is a rumbling that NHL Hockey Guys are not far off. Each set comes with its own carrying case, field/rink, an official, and unlimited opportunity for creative play.
~
There is a scene at the end of Toy Story 3 where, stepping into his car to leave for college, Andy looks back at Woody, Buzz, and the others and says "Thanks, guys" before driving off. It's a scene that had parents thanking the cinema gods that they could hide behind 3D glasses. For me, I shot forward 15 years and imagined the little boy on my lap packing up his car for school and taking one last look at his old room. Only instead of Woody, Buzz, and Jessie, he'd be saying goodbye to the faded miniatures of Eruzione, Pavelich, and O'Callahan. Of course, the scene will never play out like that in our decidedly non-Pixar life, but it's a reminder that the innocence of childhood play has a stop sign, a scoreboard buzzer that will someday sound to end his days of toys and games and Hockey Guys.
It drives me crazy that I didn't think of the Hockey Guys first. But seeing the creative juices flow each time my son plops down next to that little rink, I'm glad somebody did.
FOR A LIMITED TIME ONLY, GET 20% OFF YOUR ORDER ON THE KASKEY KIDS WEBSITE. I've never seen the sets for less than $24.99 each, but by entering "Sports" when you checkout, you can purchase a set for only $19.99. Click here to visit their page!