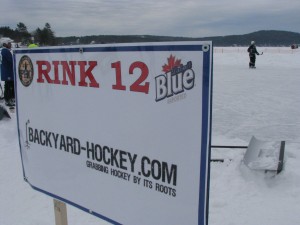 I remember this feeling well. I would experience it half a dozen times each winter, almost always on Sundays. Our family would be crammed into the Chevy Astro on some highway, heading north or south, always towards home. In the rearview mirror would be a hotel, some restaurants, and an ice rink or two, brick and mortar reminders of the three days we spent in whichever New England town we were vacating. And whether or not we won or lost, there was that same ugly feeling that we were leaving behind something that was so much better than what we were driving towards. It's probably the same thing motorcycle fanatics feel as they rumble out of Sturgis.
The post-tournament letdown. I felt it when I was a kid. I'm feeling it right now.
It's the day after the 2011 New England Pond Hockey Classic, and despite the letdown, there is much to celebrate. The Classic was a resounding success, with a thousand pond players flanked by several thousand spectators throughout the four-day event. Where the town of Meredith cautiously observed the first-ever NEPHC in 2010, it fully embraced the tournament's second iteration, with hotels, bars, and restaurants rolling out the snow-coverered red carpets for its participants. And why not? Before the tournament existed, the number of empty hotel rooms would probably have doubled the number occupied the first weekend in February. But rooms were in short supply this past weekend, the glut of bodies in rooms only rivaled by the capacity crowds in the area's numerous watering holes. Suffice it to say that anyone selling something — be it a bed, food item, or Labatt Blue — had a very good weekend. But the tournament did not come easy to those who organized it.
When he arrived in Meredith two weeks ago, organizer Scott Crowder found two feet of snow, ice, and slush atop Lake Winnipesaukee. It was ugly. But rather than throw in the towel, Crowder and his team got to work. They put in 14-hour days every day, working snowblowers into the ground and testing the waterproof and thermal properties of their gear. Four days before the tournament, the rinks were skateable. A day later, and three days before the tournament was slated to begin, another foot of snow fell. The crew went back to work.
Players began rolling into town on Thursday night, scooping up player bags, checking into hotels, and taking part in the first-ever Muscle Milk Skills Competition. This new-for-2011 event was the result of feedback Crowder received after the 2010 tournament, and served as an opening ceremony of sorts. Where the Olympics has a procession full of pomp and artistry, the NEPHC had a radar gun, a front-loading dryer, and Labatt's by the barrel. It was perfect.
The games followed starting Friday morning, with 152 teams marching out to 14 rinks for much of Friday and Saturday. While the weather cooperated for much of the weekend, those playing in Saturday afternoon games got a taste of what it must have been like during the 2008 Winter Classic in Buffalo, NY. The light, fluffy snow began falling around 2pm, and by the time we took the ice for our 3:20 game, the dash for Manplow shovels was on. Not that it was any use. Despite clearing Rink 8 completely prior to the start of our final game, the puck was lost in several inches of snow by halftime. Since our weekend was ending regardless of outcome, we enjoyed the moment.
A few dozen teams survived to make Sunday's playoffs, greeted by a beautiful blue sky, balmy temps, and the Boston Bruins' Alumni, playing in a charity game shortly after lunch. By day's end, seven champions were crowned.
For tournament organizers, the Sunday evening after their event must be a time for relaxation, reflection, and a much-deserved drink. For Crowder, whose slushy battles over the last few weeks had him second-guessing his career choice, a vacation might be in order. But it'll have to wait. That's because he's hustling down to Manchester to carve the rinks for this weekend's Manchester Monarchs Pond Hockey Classic. The one-day event scheduled for February 12th will be his second in as many weeks. After that, it's up to Burlington, VT, for the Lake Champlain Pond Hockey Classic February 18th-20th. For Crowder and his team of volunteers, it's no sleep 'til Burlington. Or, I suppose, after Burlington.
—
For players who grew up outdoors, events like the New England Pond Hockey Classic are invitations to turn back the clock, to experience hockey the way they did as kids. For people like me, who grew up primarily indoors on finely-groomed ice, these tournaments are a way for us to connect to the roots of our game, and to appreciate what it took to play it before Frank Zamboni had his epiphany. And for all involved, it was a weekend of sticks and pucks, warming tent banter, bar-room jokes, and fraternal camaraderie — all things the sport was built upon.
What was once an idea, and then simply a tournament, has now become a full-fledged festival, with vendors and sponsors and a chili cook-off and thousands upon thousands of people spending time outdoors on the shores of Meredith Bay. On behalf of the players, a heartfelt thank you to Scott and all of the volunteers who made this weekend possible. Because of your dedication and hard work, the players could simply show up and enjoy the weekend. And we did. For those of you who came up to me to talk about the website, know that your enthusiasm for the site and the outdoor game as a whole will be cashed in for another year of content and growth.
For many of us who looked forward to the event for so long, the Sunday drive home may indeed initiate an emotional letdown. But when one looks at the future of the outdoor game and growing events like the New England Pond Hockey Classic, it's hard not to feel great about the years to come.
Be sure to look out for more PHC content in the weeks ahead, including image galleries, videos, and more!