This is a follow-up to yesterday's post, where I accused New Hampshire's Union Leader newspaper of plagiarism.
First, a heartfelt 'thank you' to everyone who has reached out in the last day or so, either by commenting on the story, tweeting it, posting it on facebook, or e-mailing me directly. Some of you have been in my shoes and understand the punched-in-the-gut feeling I experienced yesterday morning. Others just sympathized and offered their support. All of it was very much appreciated.
Shortly after I published yesterday's post outlining the Union Leader's cut-and-paste "journalism", I e-mailed their Vice President of News, Tami Plyler. In my note to her, I expressed gratitude that they would showcase the sport of pond hockey atop their sports page, but also brought to her attention the blatant theft of my intellectual property. I included in my e-mail the following two paragraphs:
I put my heart and soul into my website, a site that pays none of my bills and provides me no income. I do it because I am passionate about hockey, I love the hockey community, and I want to share the sport with the world in the hopes that others can experience the game in the same way I have been fortunate to. To stumble onto my own written words this morning in another publication was both shocking and appalling.

Considering the writers chose not to attribute any of my work to me or my website in today's edition, here's what I'd like to see tomorrow: an apology and a correct citation of your source, Backyard-Hockey.com, above the fold on the front page of the sports section. It's not much to ask, and it's the right thing to do. I put in the time and effort to gather and produce the information your writers stole, so it's the least you can do.
Three hours later, I received the following response:
Joe,

We recognize that attribution should have been made. There will be a clarification to that effect on tomorrow's sports page.

Best,

Tami
My initial reaction, admittedly, was a combination of anger and annoyance. Two sentences? No apology? No expansion of how, exactly, one might "clarify" eight paragraphs of cutting-and-pasting?
But that gave way to the realization that the traditional media versus blogger battle will likely never be won by the latter, and that, after all, she vowed to do what I had asked her to do. Others in my position have had significant difficulty even getting the mainstream media to respond, or to admit their errors.
Then, this morning, their "clarification":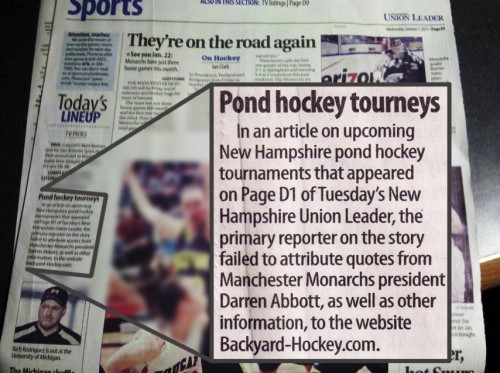 A few thoughts:
I am genuinely pleased that they followed through on their promise. I fully expected to see their "clarification" buried somewhere in the classifieds. Kudos to the UL staff for doing the right thing.
That said…
They mis-spelled "entire paragraphs." They spelled it "i-n-f-o-r-m-a-t-i-o-n."
They seemingly throw the "primary reporter" under the bus for this. As you'll see in a minute, I have no desire to further pursue this, therefore I won't name him. But interesting to note that the primary reporter for this story was a correspondent, likely a regional freelancer, where the two other contributors to the story were UL staff writers. I can only speculate, but it wouldn't be outside the realm of possibility for them to be shielding their actual employees in the process of blaming a contractor.
Given the fact that the writer clearly cut-and-pasted several paragraphs directly from this website into his article, would it have been kosher had he closed his story with a line like "Backyard-Hockey.com contributed to this article?" Is there a way to properly cite or attribute entire copied sentences (and not the Abbott quotes, but my actual prose)? I honestly don't know, and perhaps there is. It certainly would have been nice had he at least mentioned us. But I still would have felt a little dirty that he chose to paste them word-for-word rather than simply using my article as a resource and writing his own sentences. I know there are ways to properly cite that.
All in all, this has been an interesting experience. My emotions have gone from anger and betrayal to vengeance and determination to gratitude and an overwhelming feeling that the hockey community is very much alive, close-knit, and willing to back up one of their own. And now, a day later, I'm trending towards apathy. They did it, I proved it, they "clarified." They didn't apologize, per se, but they clarified.
I still have some lingering questions, but at this point, I won't pursue answers. Which of the three writers was the actual cut-and-paster? Will disciplinary action be taken? Is this a common occurrence at the Union Leader? (The blasé tone of Ms. Plyler's response implies an answer.) And perhaps most significantly, will there ever be a time when mainstream journalists will respect the work of people who write more out of passion than a paycheck?
Who knows? Not I.
Because I'm moving on. That is, after I order some new artwork for my basement wall.