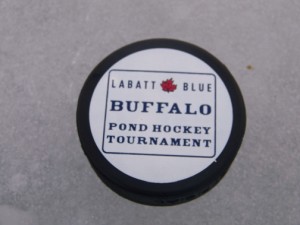 Last year we filled on December 22nd, and didn't skate until Christmas Day. Contrast that to this year, when we filled on December 7th and have already skated a handful of times, with no precipitation or warm weather in sight. Mother Nature isn't such a bad gal. This week's Puckdrop:
We held a pair of contests last week. The first was a trivia contest in last week's Puckdrop, where we asked you to name a pair of current NHLers who took part in the Cold War I game at Spartan Stadium in 2001. The sniper who buried a pair for the Wolverines was current Montreal Canadien Mike Cammalleri. The goalie he scored on? Buffalo Sabre and Team USA 'keeper Ryan Miller. Congrats to everyone who submitted the correct answer, most notably Matt Welte, who wins the Backyard-Hockey.com bumper sticker. Also congrats to Shannon Sigafoos for winning our Ben and Lucy contest last Thursday.
Lots of big news in the world of pond hockey in the past week. Most notable was the long-awaited announcement regarding the Labatt Blue Buffalo Pond Hockey Tournament in upstate New York. After cancelling play halfway through the 2010 tournament due to unsafe ice conditions, the directors opted to move the event two weeks earlier in the season. Slated for February 11-13, 2011, the Buffalo tourney will feature 124 teams and more than 700 players over the three-day event. Registration will open January 1 on the event's new website, www.labattbluepondhockey.com.
If you haven't checked out our Pond Hockey Tournament Listing lately, I'd suggest taking a look. We added two more brand new events last week, the Lake In The Hills 4-on-4 Pond Hockey Tournament in Illinois on January 15th and the Evergreen Pond Hockey Championships in Colorado on January 8th and 9th. Find the details on those events, and the other 68 on our list, here.
Love hockey and like to plan ahead? I heard from a tournament director on Friday about a potential tournament in Wisconsin in 2012. You read that correctly. Of course, once the details are finalized, you'll hear about it here.
Lastly, this is either hilarious or disturbing, depending on your point of view. If you thought the fashion show scene in Slapshot was a hollywoodization of GM-bred team promotion, think again. This video comes from the Belfast Giants of the Elite Ice Hockey League, who feature a number of North American players. Players who can DANCE, apparently. (Vid here, e-mail and RSS folks.)
That's all for this week's Puckdrop. Rinkbuilders, enjoy your slabs and cherish the memories made on them. The holidays infer a certain magic on their own, but it is magnified when one experiences a skate with family and friends on the backyard rink.