If you're the parent of a hockey-loving tot, you know how hard it can be to find quality hockey products for children. Hockey books are no exception. Our local library is well-funded, and even their best piece of hockey literature is one titled 'The NHL's Young Guns' with a picture of Joe Sakic on the cover. You know, the guy who retired last year.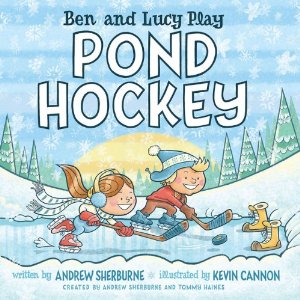 That's why I'm excited to share with you a great new children's book titled Ben and Lucy Play Pond Hockey. In the book, siblings Ben and Lucy awake to the most perfect of winter days — it's cold, the pond is frozen, and they have all day to play their favorite sport. The pair take part in rituals that all hockey players can relate to, from slinging sticks over their shoulders for the walk to the pond to sorting through the pile of lumber at center ice to make teams.  Once the sides are chosen and boots positioned at either end of the pond, Ben and Lucy dangle and deke their way through beautiful illustrations and playful, rhyming verse. Their day concludes exactly how it should — with a cup of hot cocoa, thanks to mom.
Co-creators Andrew Sherburne and Tommy Haines know a little bit about pond hockey, as founding members of Northland Films and co-producers of 2008's Pond Hockey. Sherburne's daughter Lucy and Haines's son Ben are the inspiration for the book's main characters. The illustrations are the work of talented Minnesotan Kevin Cannon, whose artwork also appears in Northland's 2009 film Forgotten Miracle.
With the book still in post-production ahead of its November 30th release, Andrew was kind enough to send me a digital version to review. So after last night's bath and pajama routine, I read the book to our resident children's book expert: my four-year-old son. His gaze stayed fixed on the illustrations as I read the story, his awe broken only to ask why they used boots in lieu of a net. When we reached the final page, he smiled and asked if his mom could make him hot cocoa after he played on our backyard rink this winter. I reassured him that she would. Then came his verdict, four words that solidify this book as a must-own for any hockey-loving child:  "Read it again, daddy." And so we did. Twice more.
Ben and Lucy Play Pond Hockey is due out in hardcover on November 30th. To pre-order, visit the book's page on Amazon.com or contact your local book store. Please note that while Amazon currently shows the book as shipping in 5-7 weeks, Andrew assured me that they should have copies in the first week in December, with plenty of time left until the holidays.

We'll also be giving away a copy in early December. Will it be through Facebook? Or solely for our Twitter followers? Visit both pages frequently to make sure you don't miss it!
---
Amazon link subject to our 
Affiliate Disclosure
. Remember that 25% of all site income will be donated to the Easter Seals Autism Network.