Sadly, the tournament has been cancelled due to ice quality concerns.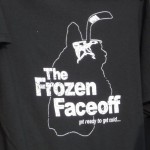 The surname "Falla" is to outdoor hockey what "Scorsese" is to mobster movies, so it should come as no surprise that another member of the Falla lineage is helping bring the roots of our game to the masses. Patrick Falla, brother to Jack and uncle to Brian, has teamed up with Ben Crosby to bring you the 2011 Frozen Faceoff Pond Hockey Tournament. This will be the second edition of the Ashfield, MA tournament, and will take place in late January. For the full details, see the full tournament press release below.
THE FROZEN FACEOFF 2011
THE WESTERN MASSACHUSETTS POND HOCKEY CHAMPIONSHIPS
P.O. Box 165
Shelburne Falls, MA 01370
413-369-0279

For Immediate Release:

Ashfield, MA
Ben Crosby and Patrick Falla, organizers of the highly successful Frozen Faceoff Pond Hockey Tournament, have announced the dates and expansion for the 2011 event. "We are expanding the Frozen Faceoff to two 24 team tournaments on January 29th and 30th. In 2010 we had to turn teams away, so by offering a 24 team Expert Tourney and a 24 team Intermediate Tourney we will accommodate all players and all skill levels," said Falla. The Expert Tournament will be held Saturday, January 29th and the Intermediate Tournament will be held Sunday, January 30th.

The number of teams is not the only part of the Frozen Faceoff that is expanding, as Crosby explains: "The one critique from 2010 was the rink size. This year we are expanding the rink size and the number of rinks. We will build six rinks on the western end of Ashfield Lake plus a skating area in front of the Ashfield Lake House for the community."

Last year's inaugural Frozen Faceoff saw 400 players and spectators come to Ashfield for the day many of whom made a full day of hockey, skating with family, and enjoying the lake in midwinter. "After a few initial ice fishing holes in the rinks last year, the community really got behind us. Ben and I have had many people come up to us since last year asking if we planned on building the rinks and having The Frozen Faceoff again. Once we were able to get the circulation back into our fingers we decided to make this an annual event," said Falla.

The 2010 Frozen Faceoff saw participants from Boston, Albany, Vermont, Connecticut, Berkshire and Franklin counties.

The Frozen Faceoff is a 4 on 4 pond hockey tournament with no goalies, slap shots, lifting of the puck or checking. Instead of nets each team protects or shoots at two six inch slots built into six foot wide pine boxes. Each team is guaranteed three games with the potential of six games if they go to the finals. Teams are made up of six to eight players. Players must be 21 or older to enter. For more information or to register a team contact Pat Falla and Ben Crosby at frozenfaceoff@yahoo.com or visit them on Facebook at Frozen Faceoff.

Press contact:
Patrick Falla
frozenfaceoff@yahoo.com
413-369-0279
Signups for last year's participants will happen first, with openings for the general population to follow shortly thereafter. Keep informed by linking up with Pat and Ben on the tournament's Facebook page.
We'll see you in Ashfield!