The Hockey Bucket List is a haphazardly-created jumble of hockey-centric things that I would like to see, experience, or be a part of before I hang up my skates for good.  Have an idea for this series?  Email me!
There is very little in this world that compares to the simple joy of skating outdoors.  Whether it's on a pond, lake, or man-made backyard rink, there is something primally joyful about the distinct crunch of steel on ice, and the echoes as those sounds bounce off of trees and surrounding structures create an oratory kaleidoscope that is unrivaled in nature.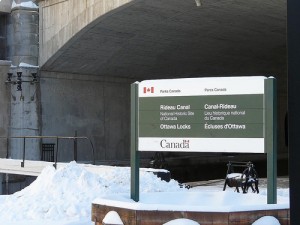 Many municipalities have embraced outdoor skating, creating rinks that welcome local skaters and tourists alike.  The rink at New York City's Rockefeller Center might be one of the world's most famous, home to the City's official Christmas tree and backdrop for NBC's weekend hockey telecasts.  A bit farther northeast in Massachusetts, Boston Common's Frog Pond invites folks from the bean to glide amongst the trees, buildings, and stars.  But continue about seven hours north from Boston through New Hampshire, Vermont, New York, and across the border into Ontario, and you'll find one of the most impressive outdoor skating venues in the world: the Rideau Canal.
The Rideau Canal was completed in 1832, though recreational use was far from the minds of the soldiers who built it.  Rather, it was built as a communications and supply route between Montreal and the British naval base located in Kingston, Ontario, primarily as insurance against an American invasion of the British colony Upper Canada.  Thankfully, the two countries avoided future military engagement (David Backes wasn't born yet), and the Canal instead became a route for immigrants and heavy goods as they moved east towards Montreal.  Montreal's growth as a commercial metropolis owes much to the Canal, as it allowed the budding city to compete with major American cities, such as New York, in areas such as sugar refining, alcohol exporting, and signing Scott Gomez.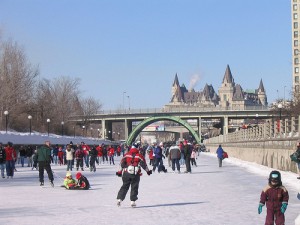 Its life as the Rideau Canal Skateway did not begin until much later, with the National Capital Commission shoveling out the first parcel of ice in 1971.  The length of skateable ice grew with each passing year, and as I type this in 2010, anyone can visit and skate the full 4.8 miles (7.8km).  It was certified in Guinness World Records 2005 as the world's largest naturally frozen ice rink, and each year allows over one-million visitors to experience the ice-crunching euphoria of outdoor skating.
One of these visitors is the reason I know about the Rideau in the first place.  Jack Falla, the legendary rinkbuilder, professor, and hockey author, spoke at length of his two visits to the Rideau in his last book, Open Ice.  Together with his wife Barbara, the pair last skated the full 4.8 miles together in 2006.  In describing the trip, Jack helps us understand, in a way only he could, why the allure of the Canal is so strong:
In a minor way the matter of confinement was one of the reasons we were driving several hundred miles to skate on a canal.  When we skate on our rink . . . we're confined, our movement limited and prescribed by the configuration of boards.  I sometimes find it frustrating to skate on my rink.  Just when a few more strides would generate more speed, it's time to turn.  It's like driving a race car on a quarter-mile oval: you can never go full out; the straightaways are too short and the turns too frequent.  When Barb skates alone on our rink, something she does frequently in the early evening, she carves a track of blade marks and deep gouges as she comes within inches of the boards, as if pushing the limits of her icy confinement.  Barb skates with a short, choppy stride that can truly rip up a small sheet of ice.  We were both looking forward to a long, free, straight-ahead skate as part of a minor adventure and pleasant weekend.
That paragraph has as much to do with my desire to skate the Rideau than any other I've read.  I too share the frustration of limited ice.  Even in hockey games played on a regulation sheet inside an arena, only rarely are you given the opportunity to skate straight ahead with engines at full power.  The Rideau provides that unique opportunity.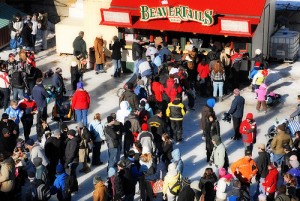 I have never been to Ottawa, but I have a vivid vision for what my first trip will be like: bursting from the front of our hotel amid the downtown traffic and Parliament buildings that dot the capital city, Bauers slung over shoulders, walking alongside my family towards the northernmost set of stairs.  Sitting on rocks and lacing up, then standing, staring, and taking the first of two thousand strides.  We'll make our way down the Skateway slowly and deliberately — there is no need to rush something you may only do once in your life — stopping every so often to soak in the visuals, share a hot chocolate, and partake in the Rideau ritual that is the Beaver Tail: a fried dough pastry smothered in cinnamon, maple butter, or chocolate — Ottawa's answer to the PowerBar.  Where the crowd thins, we'll set up impromptu sprints that end at picnic tables or overhead bridges, the victor assured eternal bragging rights.  We'll approach the last bits of skateable ice with resignation, making the turn and heading back upstream, going slower to prolong the impending confinement of real life.  Ottawa's nightlife will be largely ignored; early bedtimes preferred.  Then we'll do it again the next day.
Honestly, I have no idea when I'll make it up to Ottawa.  Real life sets my schedule these days, with forays into hockey adventure permitted only in the two months when the New Hampshire weather will allow for a backyard rink.  But this post will serve as an electronic Post-it Note, a reminder that there is a place in this world that literally has no plywood, no boards, no red line, no referees.  A place where all that matters are warm gloves, maple butter, and gliding alongside the most important people in your world. 
It might be two years, it might be 42 years.  But it will happen.
---
For more information on the Skateway, visit the NCC's official site at
www.canadascapital.gc.ca
.
The Open Ice quote is copyright John Wiley & Sons.
Images courtesy of lucas.gomes, Robbie1, and Vince Alongi.