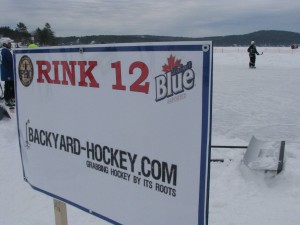 The New England Pond Hockey Classic holds a special place in my heart. It was the first pond hockey tournament I attended, the first one I played in, and as you can probably guess, the first one I wrote about. In some ways, the NEPHC is the reason why much of this site exists. So let's celebrate that fact.
Tonight marks the opening ceremony of this year's iteration, and I'm proud to once again be a media sponsor for the event. Tomorrow morning, when hundreds of groggy, cold, and hungover players descend on Lake Waukewan in Meredith, one of the rinks will be the Backyard-Hockey.com-sponsored rink. Your goal is to find it. Once you do, snap a picture of the sign (like the one at right, from last year's event), then hop over to Twitter, and tell the world you found our rink. The rules are simple:
1 – You need to take the picture with your phone and share it on Twitter. Most smartphones will do this easily.
2 – You need to mention us (@backyardhockey) in your tweet so that we'll see it.
3 – You need to say something to the effect of "I found the backyard-hockey.com rink at the NEPHC!" Close approximations count.
The first three people who do this will get a free shirt or mug from our backyard-hockey.com store. We'll reach out to the winners via Twitter's DM feature. We'll post on our Facebook page and on Twitter when the contest is over.
To all of our readers heading up to Meredith this weekend: good luck! We'll be on site Friday, taking in the sights, sounds, and Labatt's.